FREE UK Standard Delivery
If you choose FREE UK Standard Delivery:
It's fully trackable.
Your parcel will arrive within 6 working days (excluding weekends and bank holidays) after you place your order.
Your order may arrive anytime between 7am and 9pm and a signature may be required on receipt of your parcel.
If you're not in when your parcel arrives, a card will be left telling you where it is. It might be left in a safe place or there will be details on how to pick up your order or rearrange delivery.
Deliveries aren't made on bank holidays, so you can expect your order to arrive the next working day.
SUPPORT & WARRANTY

Damaged / Incorrect / Unwanted Goods
Any damage to goods must be reported within 48 hours of delivery we will refund the price and carriage of replacements goods at no cost to the customer.
You have a right to cancel the order at any time before the expiry of a period of 14 working days beginning with the day after the day on which you receive the goods.
You may cancel by giving us notice in any of the following ways:
Via email, referring to the order number and by confirming your name and address of the order.
By phone
By recorded letter which must be received by us no later than 10 days after the receipt of the order.
Faulty Items within 28 Days of Purchase

It is your responsibility to ensure compatibility of any goods offered for sale by us both with the existing components within your system and with any other goods offered for sale by us.
It is your responsibility to ensure proper installation of our goods into your existing system.
It is your responsibility to ensure that wherever necessary you access the manufacturers web site to download any necessary product upgrades (including drivers and manuals).
We recognise that goods supplied by us to you may not meet your expectations. In our experience there are many reasons why that may happen. Examples of those reasons include a defect in the goods at the point of delivery to you, incompatibility with existing components within your system, poor installation or simply slower performance than you require.
We are not able to establish why the goods have failed to meet your expectations without an opportunity of inspecting and testing the goods.
Testing

All returned items not returned in accordance with the Consumer Rights Act 2015 are tested by ADMI technicians. Any item found to be not faulty will be subject to a £10 +VAT charge if collected or a £10 + return shipping + VAT charge if shipped back to the customer. You will be notified by e-mail before any non-faulty goods are returned to you. This does not affect your statutory rights.
Packaging

Returned items should be packaged securely to prevent any damage and shipped in a plain outer box.
Modified Goods

Any goods that have been modified or physically altered in any way shall be deemed Warranty Void and no support will be provided.
Only Return Faulty Item(s). RMA numbers are issued for specific components only. Please do not return your whole order because you believe one component may be faulty. This does not affect your rights under the Consumer rights Act 2015.
Any returns received without out a Returns (RMA) number clearly visible will be refused. Any return must be received by ADMI Ltd. within 14 days of being issued.
Faulty Items More Than 28 Days after Receipt

If you are reporting faulty goods more than 28 days after receipt, then we strongly recommend that you contact the manufacturer directly for a warranty repair/replacement. This is often the quickest way to have a fault rectified. For example in some cases, manufacturers provide a special full on-site service and/or telephone help facilities for your convenience.
We will only deal with the warranty after 28 days if the manufacturer does not offer this service. This does not affect your statuary rights.
TVs and Monitors. If your query relates to a Television or Monitor, specifically in relation to dead pixels, please be aware that all of ADMI' Suppliers and thus ADMI conform to the ISO 13406-2 standard – the acceptable number of dead pixels based on screen size and resolution. Information on this can be found through any major search engine typing "ISO 13406-2" and the monitor brand name. Products with dead pixels of equal to or less than those defined within the ISO 13406-2 standard will not be accepted for return.
Consumer Rights Act 2015
ASUS PA248QV Computer Monitor 24.1" 1920 x 1200 Full HD LED - Black
ProArt Display PA248QV is a 24.1-inch monitor designed to satisfy the needs of creative professionals, from photo and video editing to graphic design. ProArt Display PA248QV is factory calibrated and Calman Verified to deliver superb color accuracy. It also provides industry-standard 100% sRGB / 100% Rec. 709 color space coverage. With ASUS-exclusive features, such as ProArt Preset and ProArt Palette with six-axis color, black-level and brightness adjustments, PA248QV makes it easy to achieve the exact look you desire quickly, easily and precisely.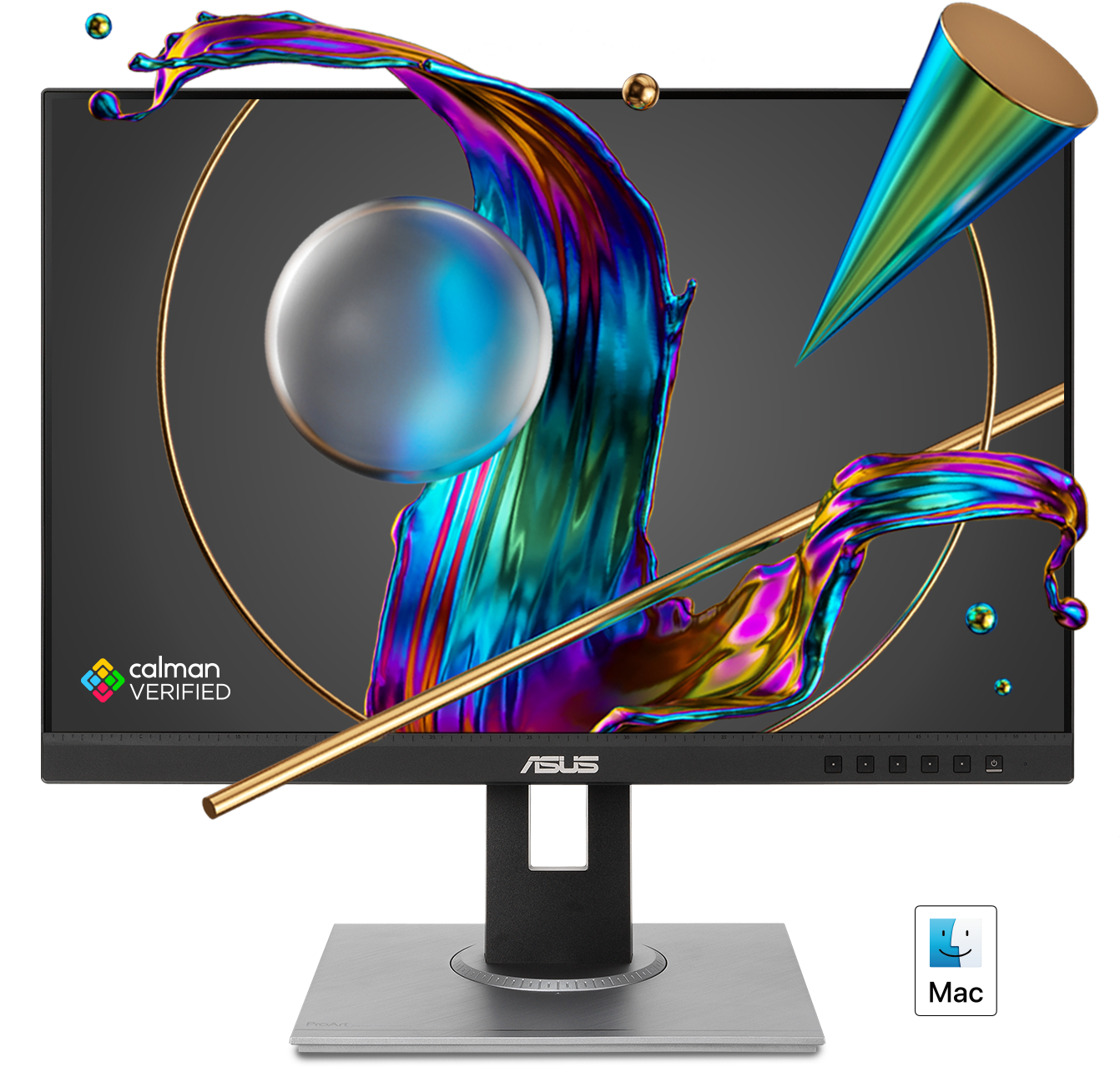 High color fidelity for truly expressive hues
Revel in pure, expressive hues thanks to accurate, true-to-life color reproduction. ProArt displays achieve ∆E < 2, so your images are accurately reproduced on screen – allowing you to see exactly how your work is going to look when it's finished.

True color, right out of box
Color professionals rely on color-accurate displays to ensure that their creations look exactly as intended. ProArt Display PA248QV is factory calibrated and Calman Verified to guarantee industry-leading color accuracy. Every ProArt display undergoes stringent, meticulous testing to ensure smoother color gradation. Consumer of pro, you're assured color-accurate viewing and content-creation experiences.

Quick color-gamut adjustment
ASUS-exclusive ProArt Preset provides multiple modes for quick color-gamut adjustment. Whether you're color grading, video editing or manipulating photos, you can switch and match your needs easily.

Personalized editing experience
ASUS ProArt Palette lets you customize your display via a wide range of parameters, including color hue, temperature and gamma adjustments – all easily accessed via intuitive on-screen menus. There are also two-point grayscale sliders for all six colors, providing greater color-adjustment flexibility than many competing monitors. ProArt Palette empowers you to produce quickly and consistently, and makes it easy to keep your color management in check.

Real-size artwork preview
Save time and work smarter with ASUS QuickFit Virtual Scale. This clever feature overlays a grid on the screen that allows to align and preview documents in their actual sizes prior to printing.

ASUS Ultra-Low Blue Light technology
Exclusive ASUS Ultra-Low Blue Light technology protects you from blue-light emissions that may be harmful to your vision. It offers four blue-light filter settings that are easily accessed through the on-screen menu via the hotkey.


ASUS ProArt PA248QV Features

24.1-inch 16:10 WUXGA (1920 x 1200) IPS display with frameless design
International color standard 100% sRGB and 100% Rec. 709 wide color gamut
ASUS exclusive ProArt Preset and ProArt Palette provides several adjustable color parameters and preset modes
75Hz refresh rate and Adaptive-Sync technology (48~75Hz) to animated content with fast action and eliminate screen tearing
Extensive connectivity with DisplayPort, HDMI, D-sub, Audio in, Earphone jack plus four USB 3.0 ports for the most flexibility
VESA wall-mountable and ergonomic design with tilt, swivel, pivot and height adjustments for a comfortable viewing experience
Display
Panel Size: Wide Screen 24.1"(61.13cm) 16:10
Color Saturation : 100% sRGB / 100% Rec. 709
Panel Type : IPS
True Resolution : 1920x1200
Display Viewing Area(HxV) : 518.4 x 324.0 mm
Display Surface : Non-glare
Pixel Pitch : 0.270mm
Brightness(Max) : 300 cd/㎡
Contrast Ratio (Max) : 1000:1
ASUS Smart Contrast Ratio (ASCR) : 100000000:1
Viewing Angle (CR≧10) : 178°(H)/178°(V)
Response Time : 5ms (Gray to Gray)
Display Colors : 16.7M
Flicker free : Yes

Video Feature
Trace Free Technology : Yes
ProArt Preset : 9 Modes(sRGB Mode/Rec. 709 Mode/Scenery Mode/Standard Mode/Rapid Rendering/User Mode 1/User Mode 2/Reading Mode/Darkroom Mode)
ProArt Palette : Yes
Skin-Tone Selection : 3 Modes
Color Temperature Selection : 4 Modes
Color Accuracy : △E< 2
Gamma adjustment : Yes (Support Gamma 1.8/2.0/2.2/2.4/2.6 )
Color Adjustment : 6-axis adjustment(R,G,B,C,M,Y)
QuickFit (modes) : Yes (Alignment Grid/Paper/Ruler Modes)
Low Blue Light : Yes
HDCP support : Yes, 1.4
Adaptive-Sync supported :Yes
Motion Sync: Yes

Audio Features
Stereo Speakers : 2W x 2 Stereo RMS

I/O Ports
Signal Input : HDMI, D-Sub, DisplayPort
PC Audio Input : 3.5mm Mini-Jack
Earphone jack : 3.5mm Mini-Jack
USB Port(s) : 3.0x4

Signal Frequency
Analog Signal Frequency : 30 ~105 KHz (H) /49 ~75 Hz(V)
Digital Signal Frequency : 30 ~105 KHz (H) /49 ~75 Hz(V)

Power Consumption
Power Consumption:<15W*
Power Saving Mode:<0.5W
Power Off Mode:0W(hard switch)
Voltage: 100–240V, 50 / 60 Hz

Mechanical Design
Tilt : -5°~+35°
Swivel : +90°~-90°
Pivot : +90°~-90°
Height Adjustment : 0~130 mm
VESA Wall Mounting : 100x100mm
Quick Release Stand Design : Yes

Security
Kensington lock

Dimensions
Phys. Dimension with Stand (WxHxD) : 533 x (375 - 505) x 211 mm
Phys. Dimension without Stand (WxHxD) : 533 x 360 x 47 mm
Box Dimension (WxHxD) : 649 x 474 x 192 mm

Weight
Net Weight (Esti.) : 6.1 kg, Without Stand (Esti.) : 3.9 Kg,
Gross Weight (Esti.) : 8.3 kg

Accessories
VGA cable(Optional)
Audio cable(Optional)
Power cord
DisplayPort cable (Optional)
USB cable(Optional)
Quick start guide
HDMI cable (Optional)
Warranty Card
Color pre-calibration report
Welcome Card
Monitor Features
Maximum Resolution:
1920x1200