ASUS ROG Chakram Optical Wireless and Wired RGB Gaming Mouse
ROG Chakram ergonomic RGB optical Qi gaming mouse with wireless charging and side Joystick, three modes of connectivity (wired/2.4 GHz/Bluetooth), advanced 16000 dpi sensor, detachable magnetic covers, exclusive push-fit switch-socket design , and Aura Sync lighting
Special Price
£119.99
£99.99
was
£149.99
ROG Chakram Wireless RGB Gaming Mouse with Qi Charging
A NEW SPIN ON PC GAMIN
Game like never before with the ASUS ROG Chakram this is a powerful 16,000 dpi, 2.4GHz RF and Bluetooth® LE mouse with a programmable, removable joystick that puts superior control right under your thumb. Light up your gameplay with ASUS Aura RGB Lighting and choose from a variety of dynamic colours to suit your style. With swift charging, plus wireless Qi, pivoted buttons, detachable magnetic covers and a innovative DPI On-The-Scroll feature for easy accuracy adjustment, the ROG Chakram is a superior new fighting force on the gaming front. Featuring optimized tri-mode connectivity, pick any way you desire, with dual-wireless 2.4GHz and Bluetooth® LE, plus wired USB connectivity all on demand. Bond instantly via the included 1ms 2.4GHz USB dongle, maximize battery life with Bluetooth LE or attach anytime with a cable. With the ROG Chakram optical gaming mouse the choice is yours. Simply charge for 15 minutes by wire for up to 12 hours of gameplay, or use Qi technology for wireless charging, either way the ROG Chakram offers up to 79 hours incredible gameplay. Armoury II interface enables intuitive adjustment of joystick, button, performance or light settings.
PLAY FOR MUCH LONGER
The ROG Chakram optical gaming mouse delivers outstanding battery life, offering up to 79 hours* gameplay when connected via 2.4GHz RF. Powering your play for days or even weeks of real-world use.
* Tests performed without Aura illumination. Battery life may vary, depending on how often Aura is enabled.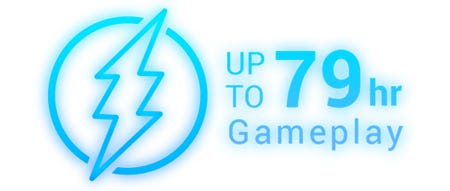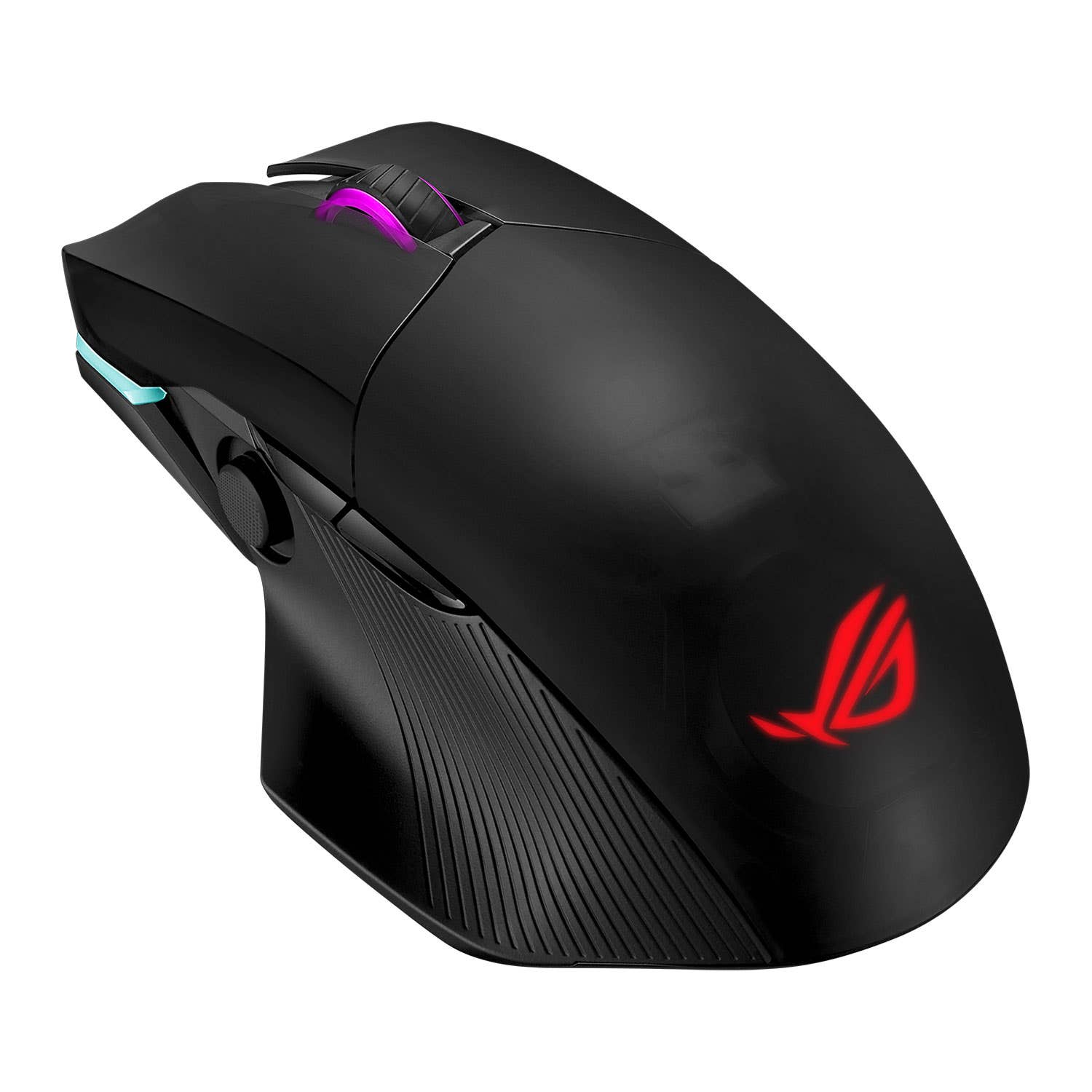 16,000 DPI Resolution
40 G Max Acceleration
400 IPS Max Speed
This premium gaming mouse from ASUS is equipped with a high-end optical gaming sensor to provide gamers with exceptional accuracy and speed during gameplay. ROG Chakram has a 100 to 16,000 dpi sensor which tracks your movements effortlessly up to an incredible speed of 400 inches per second (IPS) at up to 40 g acceleration. With a 1,000 HZ polling rate you'll also enjoy lag-free responsiveness in both 2.4GHz and wired mode for ultra-smooth gaming experiences.
TOP UP RAPIDLY BY WIRE USB
Gamers can utilize the ROG Chakram's USB Type-C input for up to 12 hours of impressive gaming from just a simple 15 minute charge time. Fast charging requires USB 3.0 connector, or power adapter.


QI CHARGING COMPATIBLE
You can charge the ROG Chakram wirelessly with a Qi-compatible charging surface, such as the ROG BALTEUS QI*
– ASUS' amazing companion RGB gaming mouse pad where you can enjoy the most accurate gameplay.
* ASUS Qi Charging surfaces are sold separately, surface not included.
BELOW 25% BATTERY THE LOGO BLINKS RED BY DEFAULT
Take RGB style to another universe with ASUS Aura Sync RGB lighting, where you can customize your mouse using an infinite spectrum of colours and a variety of dynamic lighting effects. All illuminations can be synced with an ever-growing portfolio of Aura Sync-capable hardware to create a truly personalised gaming arena.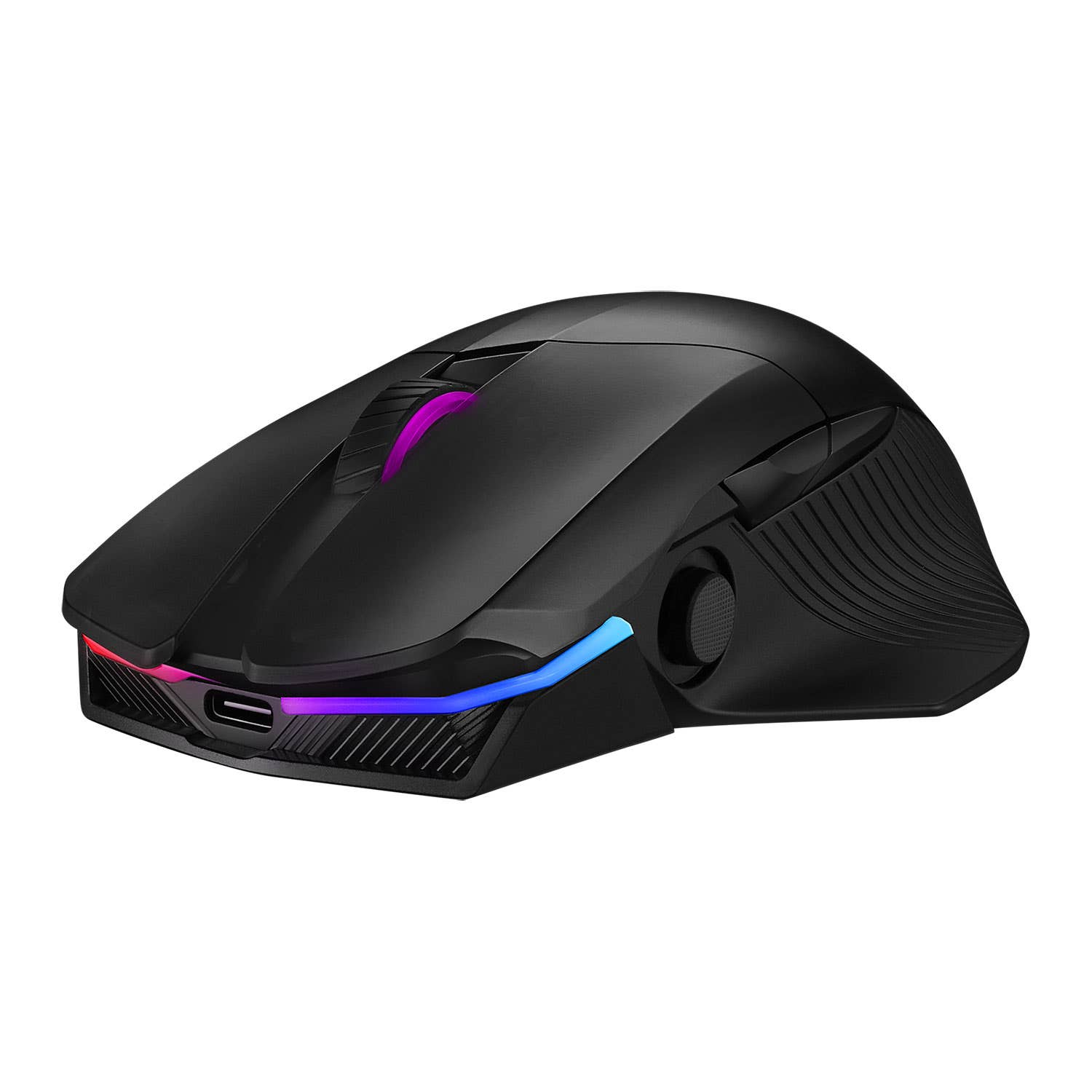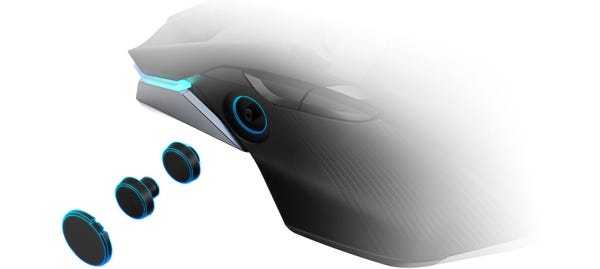 FLEXIBLE JOYSTICK FOR VARIOUS PLAY STYLES
ASUS have included both a long and a short joystick to match different hand shapes and play styles. For times when the stick isn't needed, then whip it off and fit the included socket covers for a flush finish.
* For smooth installation and to avoid damage, please ensure correct orientation when inserting the joystick into the socket.
1. SCREW-LESS MAGNETIC BUTTONS
The mouse buttons also detach magnetically, enabling fast access to the swappable switches without a screwdriver.
2. EXCLUSIVE PUSH-FIT SWITCH SOCKET
Swap the switches, drop in ones that fit your preferred operating force and feedback – or replace worn or broken switches to extend ROG Chakram's lifespan.
3. SCREW-LESS MAGNETIC COVER
The detachable magnetic top plate slides off quickly and easily, no tools required.
4. CUSTOMIZABLE BADGE
The ROG logo is proudly displayed and we've also included a customizable blank badge, ready for you to make your ROG Chakram truly unique.
Specifications
Type ┃ Gaming
Mouse Model ┃ ROG Chakram
Design ┃ Right-Handed
Sensor ┃ Optical
Resolution ┃ 100 - 16,000 dpi
No. of Buttons ┃ 7
Features & Functions:
Built-in Rechargeable Li Po Battery
Omron Switches
On-the-fly sensitivity adjustment
Programmable Buttons
Qi® Wireless Charging Support
Tactile Scroll Wheel
DPI Adjustment ┃ Adjustable DPI
Connectivity ┃ Bluetooth 4.2 + LE
RF 2.4GHz ┃ USB
Wired/Wireless ┃ Wired/Wireless
Rechargeable Mouse ┃ Yes
Back-Lit ┃ Yes
Backlight Functions:
Battery Level
Breathing
Colour Cycling
Explosion
Reactive
Static Lighting
Wave
LED Lighting Colour ┃ RGB
Compatible Operating Systems ┃ Windows 10
Dimensions ┃ 132.7 x 76.6 x 42.8 mm (WxHxD)
Weight ┃ 121.6 (without cable) g
Package Type ┃ Retail
Additional Information
Model Number ┃ 90MP01K0-BMUA00
GTIN ┃ 4718017521659