ASUS TUF Gaming VG27AQ 27" HDR Gaming Monitor
TUF Gaming VG27AQ HDR Gaming Monitor – 27 inch WQHD (2560x1440), IPS, 165Hz*, Extreme Low Motion Blur Sync G-SYNC Compatible, Adaptive-Sync, 1ms (MPRT), HDR10
Features
Model Number
TUF Gaming VG27AQ
Maximum Resolution
2560x1440
ASUS TUF Gaming VG27AQ HDR Gaming Monitor – 27 Inch WQHD

TUF Gaming VG27AQ is a 27-inch, WQHD (2560x1440), HDR IPS display with an ultrafast 165Hz* designed for professional gamers and those seeking immersive gameplay. Those are some serious specs, but not even the most exciting thing the VG27AQ has in store.
For the first time in any gaming monitor, Motion Blur Reduction and Adaptive-sync can be enabled at the same time. This new technology is called ASUS Extreme Low Motion Blur Sync (ELMB SYNC). ELMB SYNC works with G-SYNC Compatible, allowing gamers to enjoy sharp, high speed frames.

A 27-inch WQHD (2560 X 1440) IPS display for highly detailed visuals and accurate colour
TUF Gaming VG27AQ features WQHD (2560 x 1440) panel that delivers up to 77% more onscreen desktop space than standard Full HD (1920 x 1080) displays. IPS technology gives you superior images with outstanding colors thanks to 99% sRGB colour gamut and an astounding 1,000:1 contrast ratio. Wide 178-degree viewing angles ensure minimal distortion and colour shift even when you're viewing from extreme positions.

Incredibly-fast 165Hz* refresh rate
TUF Gaming VG27AQ 165Hz* refresh rate decimates lag and motion blur to give you the upper hand in first person shooters, racers, real-time strategy, and sports titles. This ultrafast refresh rate lets you play at the highest visual settings and lets you react instantly to what's onscreen — so you'll get that first strike in.

EXTREME LOW MOTION BLUR SYNC
With ELMB SYNC, you can enable ELMB (low-motion-blur technology) and G-SYNC Compatible at the same time, eliminating ghosting and tearing for sharp visuals and high frame rates while gaming.

Multi HDR Mode
Now you can choose from multiple HDR modes to adjust monitor HDR performance based on the current viewing scenario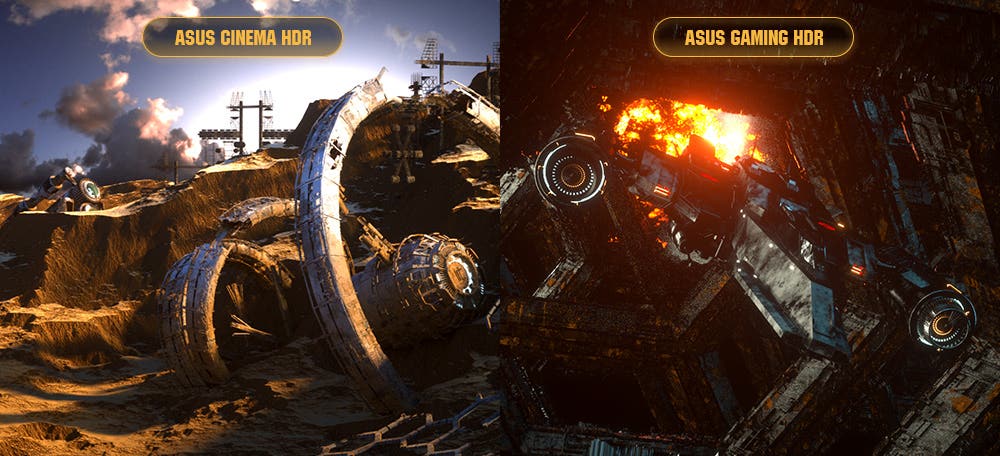 Rich connectivity
Extensive connectivity options, including, I/O: DisplayPort1.2, HDMI (v2.0) support a wide array of multimedia devices.

Shadow Boost
ASUS Shadow Boost technology clarifies dark areas of the game without overexposing brighter areas, improving overall viewing while also making it easier to spot enemies hidden in dark areas of the map.


ASUS TUF Gaming VG27AQ Features

27-inch WQHD (2560x1440) IPS gaming monitor with ultrafast 165*Hz refresh rate designed for professional gamers and immersive gameplay.
ASUS Extreme Low Motion Blur Sync (ELMB SYNC) technology enables a 1ms response time (MPRT) together with G-SYNC Compatible, eliminating ghosting and tearing for sharp gaming visuals with high frame rates.
Certified as G-SYNC Compatible, delivering a seamless, tear-free gaming experience by enabling VRR (variable refresh rate) by default.
Compatible with industry-standard HDR10 high dynamic range for colour and brightness levels that exceed the capabilities of ordinary monitors.
Features an ergonomically designed stand to offer extensive swivel, tilt and height pivot adjustments.
Delivery is FREE on all orders on the AWD-IT website - but enhanced delivery options are available should you wish to choose them.
You can read more about our delivery services and options HERE.
For PC orders, parcels are fully tracked and notifications are sent to keep you updated. On the morning of the scheduled delivery date, DPD notify the recipient with the estimated delivery time which is accurate to within one hour.

Delivery times are typically 5-7 working days on PC systems. If you have a particular delivery date in mind please give us a call and we will do our very best to accommodate your requirements!