ASUS TUF K1 RGB Membrane QWERTY Gaming Keyboard
ASUS TUF Gaming K1 is a gaming keyboard that delivers uncompromising performance and exceptional durability. It's equipped with switches that deliver silent tactility with every press. These are housed in a 300 ml spill-resistant frame that's fortified by a specialized coating and validated for tough duty. K1 also features customizable RGB illumination and side-mounted light bars for personalized style, a dedicated volume knob for fast, intuitive control and a detachable ergonomic wrist rest for extended comfort.
ASUS TUF K1 RGB Membrane Gaming Keyboard
GAMING GRADE PERFORMANCE
TUF Gaming K1's delivers a superb tactile response with a cushioned action that's both quiet and comfortable. It's also engineered with 19-key-rollover (NKRO) technology, ensuring remarkable precision and no missed key presses.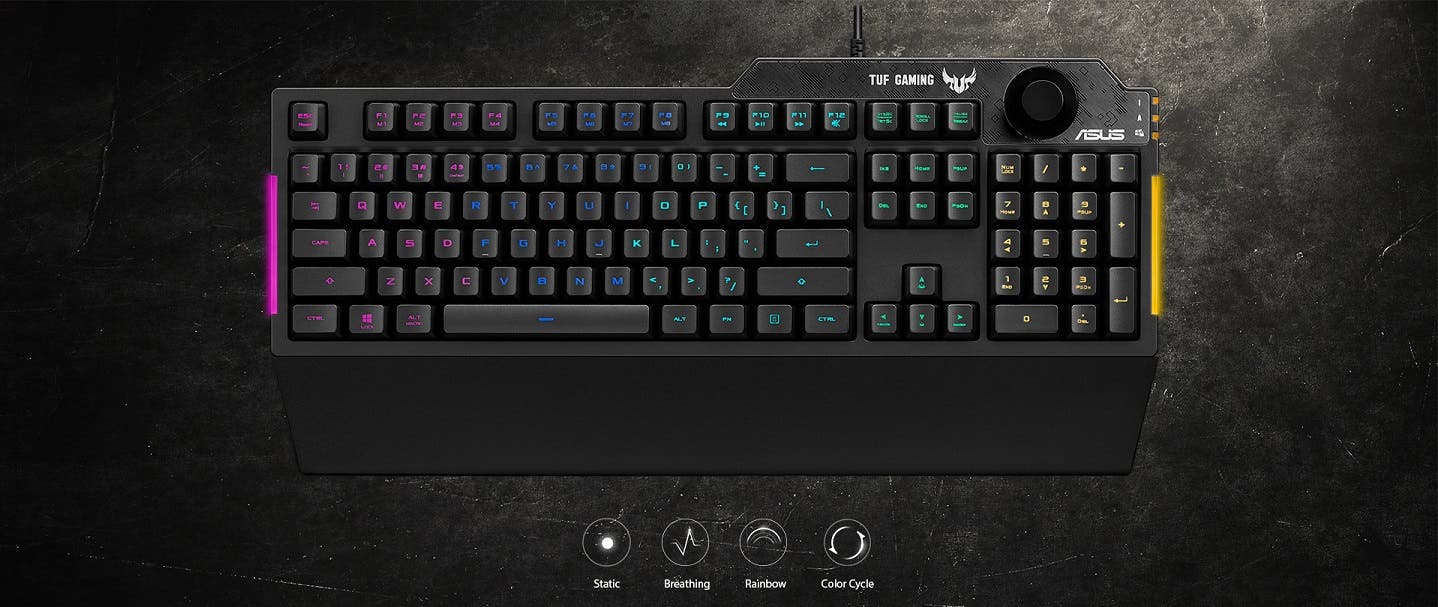 DYNAMIC RGB AND LIGHTING BAR
TUF Gaming K1 features five individual lighting zones, and sports striking RGB bars on both sides. Each zone is individually customizable from the whole color spectrum, allowing you to illuminate your rig in your image. The ASUS Armoury Crate app provides next-generation RGB control that synchronizes lighting and game profiles with your content.
DEDICATED VOLUME KNOB
With a dedicated volume knob at the top-right, TUF Gaming K1 makes it quick and easy to control your game audio on the fly. You can reach and twist intuitively, keeping your eyes firmly on the action.
ERGONOMIC WRIST REST AND ADJUSTABLE LEGS
With a detachable wrist rest and adjustable legs that provide two height positions, TUF Gaming K1 is ergonomically designed for optimal comfort.
SPECIALIZED COATING WITH SPILL-RESISTANCE
Inside and out, TUF Gaming K1 is built to provide years of service on the frontline. Its outer shell features a specialized coating that's fortified to withstand a battery of more than 10 stringent abrasion, friction, and perspiration tests. And spill-resistance up to 300ml ensures that accidents with cans or cups won't kill the action.
PROGRAMMABLE WITH ONBOARD MEMORY
TUF Gaming K1 features eight programmable keys with on-the-fly macro-recording support, making it easy to configure your keyboard for personalized play. And three customizable plus one default onboard memory lets you take your keyboard on the road and have your settings available wherever you go.
Brightness Setting Hot Keys
Fn + Delete: Red Increase (10 Levels)
Fn + End: Green Increase (10 Levels)
Fn + PageDown: Blue Increase (10 Levels)
Clear On-Board Memory Hot Keys
Hold Fn + ESC for 15 Seconds
F1-F8 keys Programmable
On-the-Fly Macro Recording:
Step 1: Fn + Right-ALT to Start Recording
Step 2: Fn + Right-ALT to End Recording
Step 3: Assign Macro Key
WIN Lock Key
Lighting Brightness Level Switch
Forward (F9)
Play/Pause and Stop (F10)
Backward (F11)
Mute/Unmute (F12)
On-the-Fly Macro Recording:
Step 1: Fn + Right-ALT to Start Recording
Step 2: Fn + Right-ALT to End Recording
Step 3: Assign Macro Key
Keyboard: 451 x 155 x 36 mm
Wrist Rest: 451 x 66 x 18 mm
Fn + 1/ 2 / 3/ 4: Profile 1 - 4 (4 is the Default Profile)
Keyboard: 810g
Wrist Rest: 95g"
Lighting Effects Hot Keys
1 x TUF GAMING K1 gaming keyboard
1 x Wrist rest
1 x Quick start guide
Warranty booklet x 1
1 x TUF GAMING K1 gaming membrane keyboard
1 x Wrist rest
1 x Quick start guide
1 x Warranty booklet
Delivery is FREE on all orders on the AWD-IT website - but enhanced delivery options are available should you wish to choose them.
You can read more about our delivery services and options HERE.
For PC orders, parcels are fully tracked and notifications are sent to keep you updated. On the morning of the scheduled delivery date, DPD notify the recipient with the estimated delivery time which is accurate to within one hour.

Delivery times are typically 5-7 working days on PC systems. If you have a particular delivery date in mind please give us a call and we will do our very best to accommodate your requirements!