Corsair VENGEANCE 32GB (2x16GB) DDR5 DRAM 5200MHz C38 Memory Kit (Black) - CMK32GX5M2B5200C38
WELCOME TO CUTTING EDGE PERFORMANCE - Push the limits of your system like never-before with DDR5 memory, unlocking even faster frequencies, greater capacities, and better performance.
Features
Model Number
CMK32GX5M2B5200C38
Total Memory Capacity
32GB
Corsair VENGEANCE 32GB (2x16GB) DDR5 DRAM 5200MHz C38 Memory Kit (Black) - CMK32GX5M2B5200C38
DO IT ALL, AND DO IT FASTER
In the many-core era, the unprecedented processing speed of DDR5 ensures your high-end CPU gets data quickly with ease. Whether you are gaming, creating content, opening 100 tabs, or multi-tasking, your PC can power through complex tasks faster than ever before.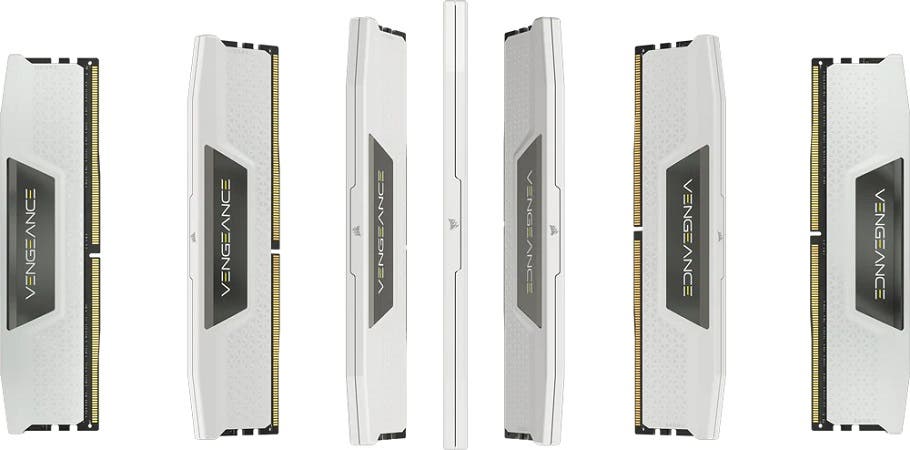 ONBOARD VOLTAGE REGULATION
You have the power and the control. Built-in voltage regulation with iCUE software control makes for easier, finely-tuned output that provides more stable overclocking than ever.
CUSTOM INTEL® XMP 3.0 PROFILES
Ditch the tedious process of manually adjusting your performance settings each time when you save your own XMP profiles through iCUE.
Easily customize and tailor your setting profiles by app or task for greater efficiency.
COMPACT FORM-FACTOR
Low clearance ensures wide compatibility with nearly any DDR5 build.
HAND-SORTED, TIGHTLY-SCREENED MEMORY CHIPS
Ensures consistent high-frequency performance with aggressive timing options.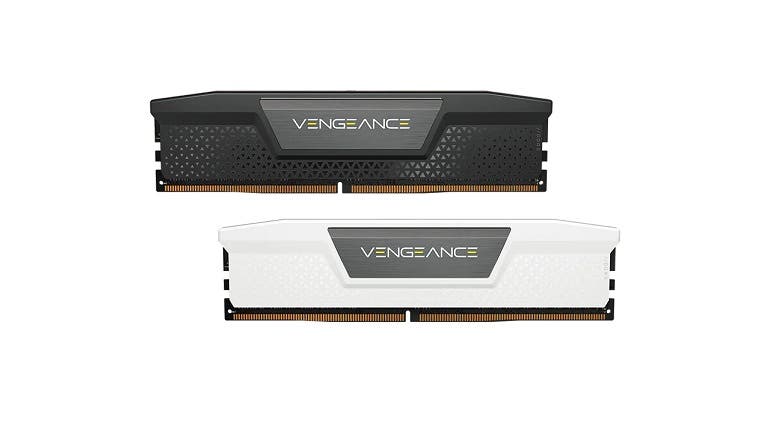 HIGH-PERFORMANCE PCB
Guarantees signal quality and stability for superior overclocking ability.
SOLID ALUMINUM HEATSPREADER
Conducts heat away from your memory quickly, with refined VENGEANCE styling to fit the look of modern systems.
WIDE COMPATIBILITY
Optimized for the latest Intel® DDR5 motherboards.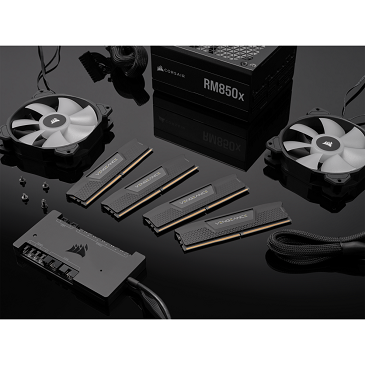 LIMITED LIFETIME WARRANTY
For complete peace of mind and years of worry-free performance.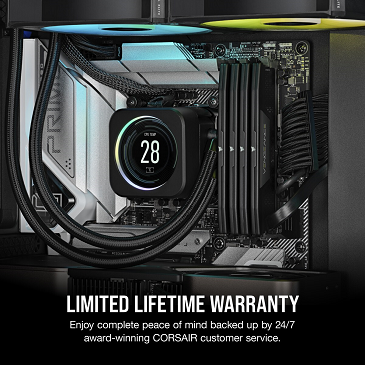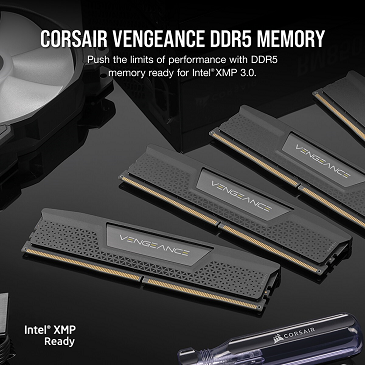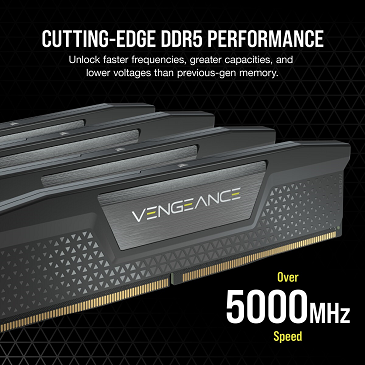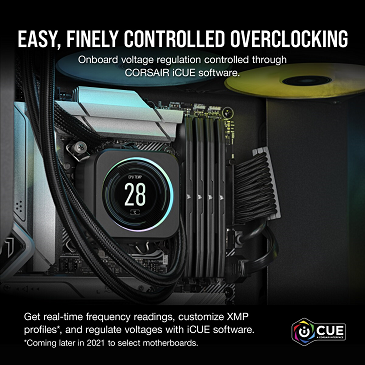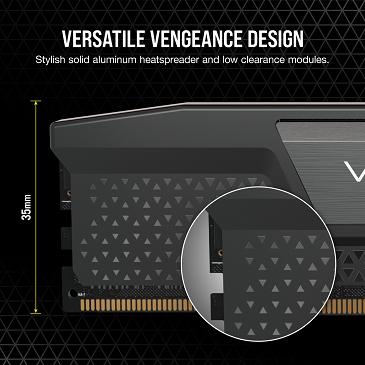 Fan Included
No
Memory Series
VENGEANCE DDR5
Memory Type
DDR5
PMIC Type
Overclock PMIC
Memory Size
32GB (2 x 16GB)
Tested Latency
38-38-38-84
Tested Voltage
1.25
Tested Speed
5200
Memory Color
BLACK
SPD Latency
40-40-40-77
SPD Speed
4800MHz
SPD Voltage
1.1V
Speed Rating
PC5-41600 (DDR5-5200)
Compatibility
Intel 600 Series
Heat Spreader
Aluminum
Package Memory Format
DIMM
Performance Profile
XMP 3.0
Package Memory Pin
288
Delivery is FREE on all orders on the AWD-IT website - but enhanced delivery options are available should you wish to choose them.
You can read more about our delivery services and options HERE.
For PC orders, parcels are fully tracked and notifications are sent to keep you updated. On the morning of the scheduled delivery date, DPD notify the recipient with the estimated delivery time which is accurate to within one hour.

Delivery times are typically 5-7 working days on PC systems. If you have a particular delivery date in mind please give us a call and we will do our very best to accommodate your requirements!