Rise With RTX
Get Warhammer 40,000: Darktide - Imperial Edition with select GeForce RTX 30 Series* PROMO HAS ENDED
Combat the forces of Chaos with the power of GeForce RTX 30 series providing gamers with the definitive experience. Take on hordes of bloodthirsty foes in this award-winning franchise with AI-enhanced performance boosting NVIDIA DLSS, stunning ray-traced effects and the best responsiveness with NVIDIA Reflex. Take back the city of Tertium with RTX On.
*For a limited time, get Warhammer 40,000: Darktide - Imperial Edition with the purchase of a qualifying GeForce RTX 3090 Ti, 3090, 3080 Ti, 3080, 3070 Ti, 3070, 3060 Ti, 3060 desktop or GPU.
*One code per person. Terms and conditions apply.

Feel the Power with GeForce RTX 30 Series
Warhammer 40,000: Darktide - Imperial Edition
Warhammer 40,000: Darktide is the new co-op focused experience from the award-winning team behind the Vermintide series. Get the definitive PC experience of Warhammer with NVIDIA DLSS, ray-traced reflections, RTX Global Illumination and NVIDIA Reflex.
Warhammer 40,000: Darktide - Imperial Edition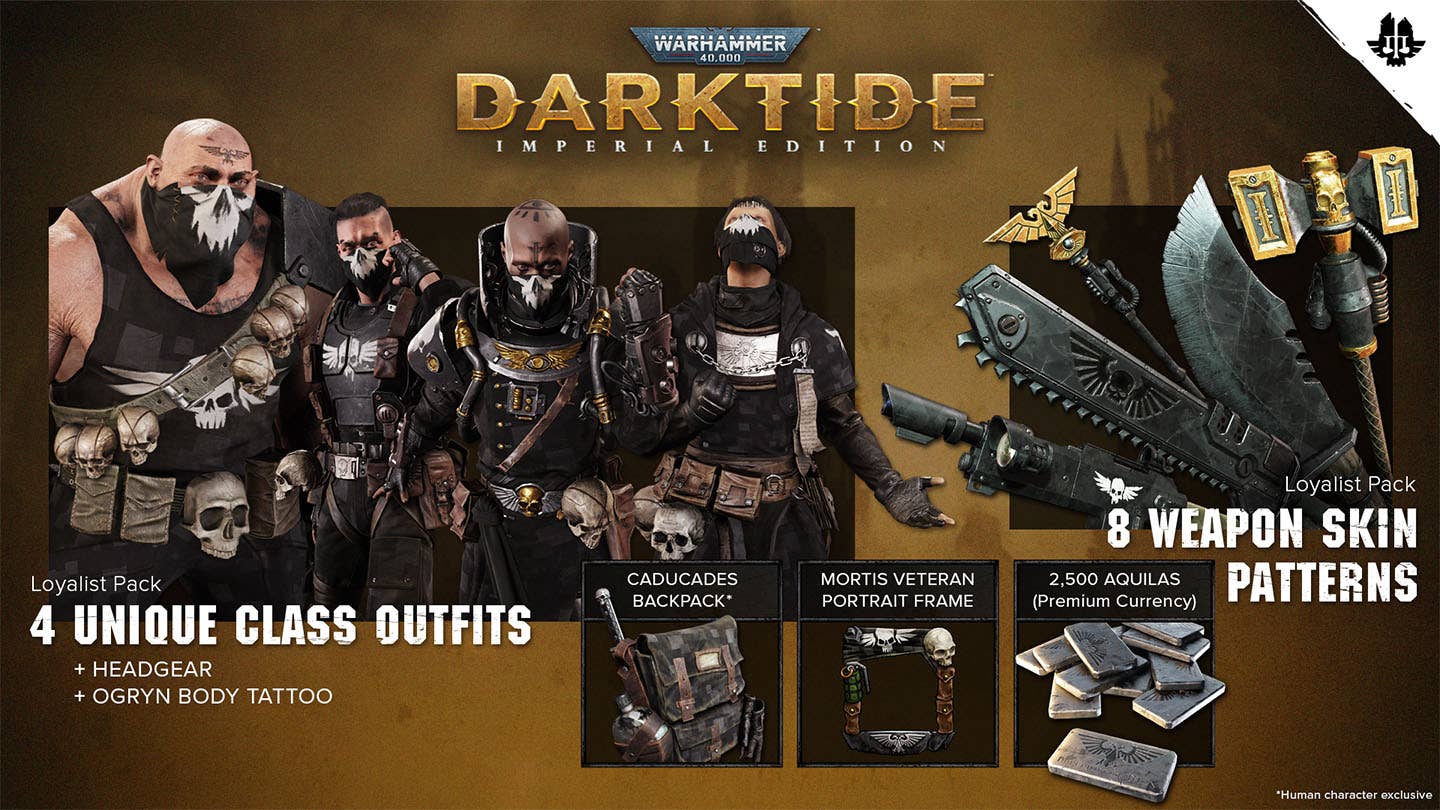 Purge heresy in style with these 4 unique class outfits, 8 weapon skin patterns, one set of headgear as well as an Ogryn body tattoo.
Mortis Veteran Portrait Frame
A cosmetic portrait frame used to pay tribute to the fallen defenders of Tertium Hive.
A cosmetic backpack for human characters. Scavenged from the fallen troops of Cadia, this backpack has been repurposed to serve those still alive and fighting.
2500 Aquilas (premium currency)
PROMO HAS ENDED - REDEEM BY 12TH JANUARY 2023
HOW DO I REDEEM?
Once you have received your purchase, please get in contact with our team in order to receive your promotional code.
To redeem your promotional code you must have GeForce Experience and a Steam account.
Buy GeForce RTX 30 Series Gaming PCs
Buy GeForce RTX 30 Series Graphics Cards
---


Warhammer 40,000: Darktide © Copyright Games Workshop Limited 2022. Darktide, the Darktide logo, GW, Games Workshop, Space Marine, 40K, Warhammer, Warhammer 40,000, 40,000, the 'Aquila' Double-headed Eagle logo, and all associated logos, illustrations, images, names, creatures, races, vehicles, locations, weapons, characters, and the distinctive likeness thereof, are either ® or TM, and/or © Games Workshop Limited, variably registered around the world, and used under licence. © Fatshark AB 2022. All rights reserved to their respective owners.
© 2022 NVIDIA Corporation. All rights reserved. NVIDIA, the NVIDIA logo, GeForce, GeForce RTX, and GeForce NOW are trademarks and/or registered trademarks of NVIDIA Corporation in the U.S. and other countries.