Phanteks Enthoo Pro 2 Tempered Glass DRGB E-ATX Full Tower PC Case - Satin Black
The Enthoo Pro 2 has been designed with extreme performance in mind, featuring Phanteks' innovative 'High-Performance Fabric' that sets a new airflow performance standard in the PC enclosure industry
Features
| | |
| --- | --- |
| Brand | Phanteks |
| Model Number | PH-ES620PTG_DBK |
Phanteks Enthoo Pro 2 Tempered Glass DRGB E-ATX Full Tower PC Case - Satin Black
The Enthoo Pro 2 has been designed with extreme performance in mind, featuring Phanteks' innovative 'High-Performance Fabric' that sets a new airflow performance standard in the PC enclosure industry. The High-Performance Fabric from Phanteks, known from the award winning Eclipse P600S, bring sultimate airflow performance with much lower flow restriction copmared to any metal mesh.

Features
- High performance fabric on front panel for enhanced airflow
- Large internal capacity, perfect for multiple PC configurations
- Supports up to SSI-EEB motherboards
- D-RGB controller buttons and D-RGB elements on the PSU shroud
- Support for multiple storage options up to eleven SSDs and four HDDs or up to three SSDs and twelve HDDs.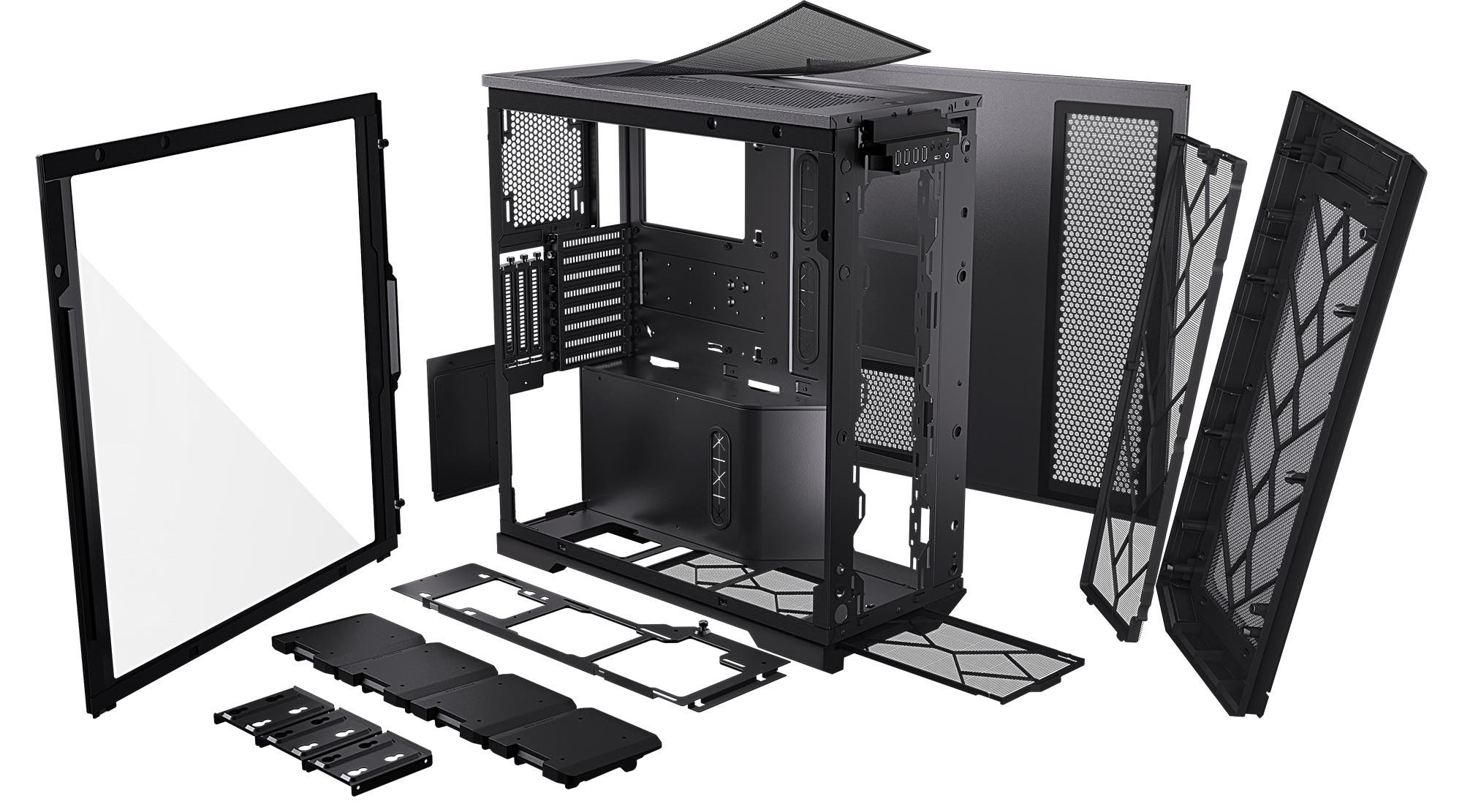 Industrial Design
Aesthetically, the Phanteks Enthoo Pro 2 has an impressive almost industrial design. New for this model is a mesh front panel that is made from an innovative High-Performance fabric. This fabric-based mesh front panel offers improved filtering and airflow characteristics over traditional plastic or metal. It also features an angular pattern, which complements the clean lines of the case itself.

Full Tempered Glass Window
Another important element of the case's overall look is it's large tempered glass side panel. This enables users to display any components they've fitted inside the case. Indeed it is possible to mount your GPU vertically with a separate bracket.

DRGB Illuminated
The whole package is completed by having control over RGB illumination. Controller buttons on the i/o panel make it easy to switch through different colours and illumination modes. As well as that, the PSU shroud features RGB LEDs, which can also be coordinated with other RGB LED elements fitted in the case.

Extensive Internal Capacity
The Phanteks Enthoo Pro 2 will have room for all the components you need to make an extremely powerful PC build. It is compatible with motherboards up to SSI-EEB form factor. As well as that there are significant options for cooling from space for up to a maximum of 15 x 120 mm / 8 x 140 mm fans to room.