Features
Model Number
SPUH-HC71227.11
Streamplify HUB CTRL 7 USB Hub with RGB LEDs and 2.0A Charging
Level up your stream and stay organised with the Streamplify HUB CTRL 7 Deck. Featuring six USB 3.0 ports and one USB with 2.0A power charging, each support customisable, acrylic icons, so you can configure this hub to best suit your needs. There are sixteen icons to choose from, catering to your every need. Every port has a dedicated power button that is equipped with an indicator LED. Additionally, each of the acrylic icons is illuminated with RGB lighting from LEDs embedded in the casing. Everything you need to know, at a glance.
STREAMPLIFY HUB CTRL 7 AT A GLANCE:
Streaming deck with 7 slots for connecting devices
Six USB 3.0 slots and one USB 2.0A with LED power indicators
Sixteen swappable acrylic icons to customise your hub
RGB lighting effects controlled via RGB button
Integrated cable clip for maintaining cables and tidiness
Equipped with a 2.0A USB for fast charging your smartphone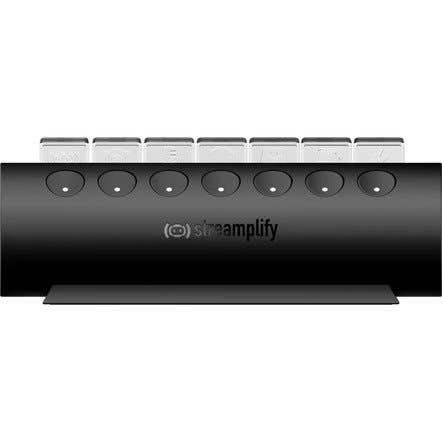 USB HUB

The Streamplify HUB CTRL 7 is a USB hub designed to help simplify and organise your streaming set-up. With seven USB ports, each with a corresponding power button, you have extensive connectivity for the hardware needed when streaming. Six of these are equipped with USB 3.0 technology, whilst the final port has 2.0A power charging for equipment such as your smartphone. All of the ports are backwards compatible with USB 2.0, as well, allowing for extensive hardware to be used with this hub.
ICONS
Above each USB port on the Streamplify HUB CTRL 7 is a slot to place an acrylic icon. There are sixteen icons to choose from, each with an embedded design to denote function. These icons are swappable and will fit into any of the slots on the HUB CTRL 7.
There are icons for your microphone, headset, laptop, lighting, and even the numbers 1 to 7. These will correspond to the device plugged in behind the hub, allowing you quick and easy access at your fingertips.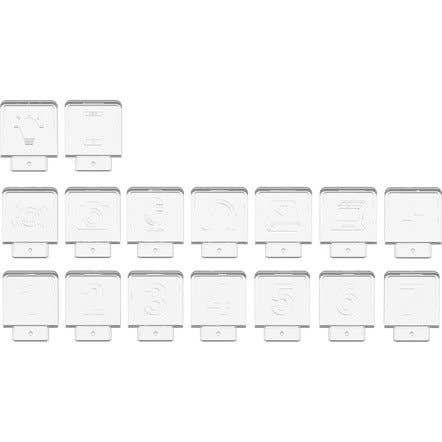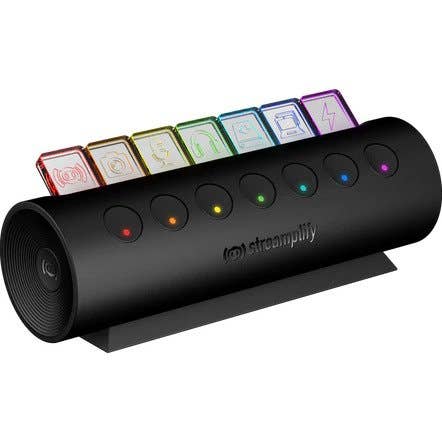 RGB LIGHTING
Adding a splash of colour, the Streamplify HUB CTRL 7 has RGB lighting embedded in each of the icon slots. This can be controlled via the RGB button on the side, recessed in the curve of the casing. When on, the lighting shines through the transparent acrylic icons and illuminates the design within the acrylic.
What's more, each power button features an LED indicator light. Matching the colour lighting up the icon, these LEDs show whether the device is active on the hub. All the information you need, at a glance.
CABLE MANAGEMENT
Connecting up to seven devices could be very messy when it comes to their cables. To avoid this, the Streamplify HUB CTRL 7 includes a cable clip to neatly maintain all the wires. Roughly the same length as the hub, the cables wedge into the dedicated slots, whilst the clip can be positioned anywhere along the wires to best serve your needs.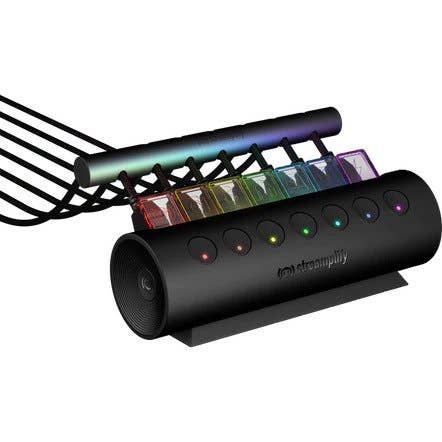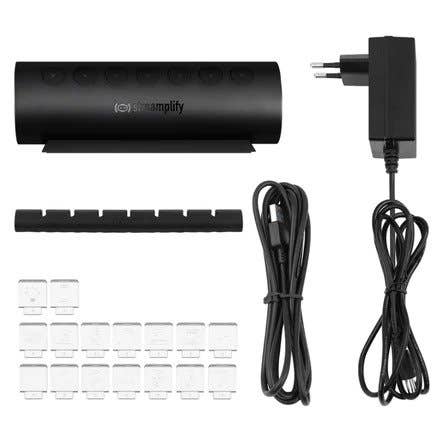 EASY TO USE
As with the whole Streamplify, the HUB CTRL 7 is easy to use. No drivers are required to use this hardware, simply plug and play.
Thanks to the USB technology, the Streamplify HUB CTRL 7 is compatible with many devices. This includes laptops, desktop PCs, and consoles such as the PlayStation 4 or 5 and Xbox One or Series X/S. What's more, it works on a variety of operating systems including Windows 10, macOS, and Chrome OS.
Brand
Streamplify

Model
HUB CTRL 7

Number of Slots
7

Colour
Black

USB Type
6 x USB 3.0 Type A
1 x USB 2.0A with power charging
Compatible to USB 2.0 connector

Smartphone Charging
Up to 2.0A
One port only

Icons
Acrylic
Swappable

Lighting
RGB LED power indicator
RGB effects controlled via RGB button

Buttons
7 x Power buttons
RGB button

Cable Management
Cable clip

USB Cable Length
1.8m

Power Supply
Adaptor
12V/2A
24W

Plug and Play
Yes
Standard UVC and UVA protocol

Compatible Devices
Laptop
PC
PlayStation 4 and 5
Xbox One and Series S/X

Compatible OS
Windows 10 / 8 / 7 / Vista / XP
macOS
Chrome OS

Dimensions
Hub: 160mm x 47mm x 53mm
Acrylic icons: 23mm x 19mm x 5mm
L x W x D

Warranty
2 years
FREE Delivery 5-6 working day is available to the UK Mainland only.
Express services are available at an addition cost such as, DPD, Royal Mail & UPS.
Ordering a PC? Please be aware that our PCs come with a build time, which is not your delivery time. For an accurate estimate on when to expect your PC, please calculate both your build time and delivery time in working days. On the morning of your delivery date, you will be notified with the estimate delivery slot.
Other items you may like