Asrock B550 Taichi AMD B550 Socket AM4 ATX
Taichi represents the philosophical state of undifferentiated absolute and infinite potential. A motherboard that fulfills every task – with style! Become like water. Shapeless, formless, versatile for any situation.
Features
Model Number
90-MXBD00-A0UAYZ
ASRock B550 Taichi 3rd Gen AMD Ryzen ATX Motherboard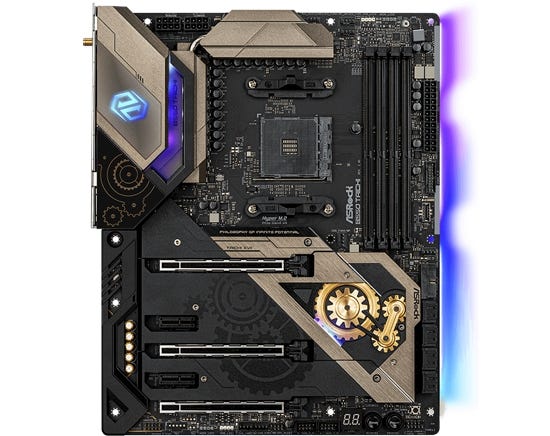 THE PHILOSOPHY OF INFINITE POTENTIAL
Discover infinite potential with a motherboard that fulfills every task, versatile for any situation. ASRock introduces the B550 Taichi, which is built to succeed with the support of 3rd Gen AMD AM4 Ryzen™ /Future AMD Ryzen™ Processors and also supports AMD 3-Way CrossFireX™, plus DDR4 5200+ (OC). This model features a wide range of networking capabilities with Intel® 2.5G LAN, Wi-Fi 6 and BT 5.1 to get you up to speed when online gaming. The B550 Taichi features Hyper M.2 ready for PCIe Gen4x4 and the Ultra M.2 allows for PCIe Gen3 x4 & SATA3 SSDs. The range of connections featured with this motherboard are ready to keep you connected with 3x USB 3.2 Gen2 (Rear Type-A and Type-C / Front Type-C), and 8x USB 3.2 Gen1 (4 Front / 4 Rear), HDMI, DisplayPort – while the I/O shield is built to be flexible, thus making installation much easier for the user.
Get Endless Performance Possibilities with Style
SYNCHRONIZE ACROSS THE RGB SYNC-CERTIFIED ACCESSORIES
ASRock motherboards deliver stunning performance and superior aesthetics with an array of lighting effects. Gamers get very comprehensive control to perform the built-in RGB LEDs or the connected LED strips, CPU fans, coolers, chassis and any RGB devices smoothly. Includes Two Addressable RGB LED Headers and Two RGB LED Headers.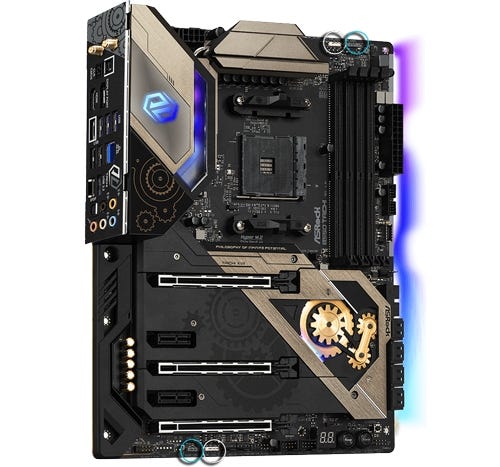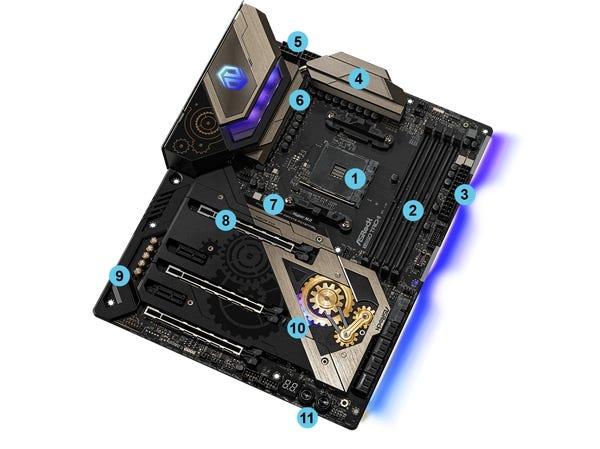 Component Breakdown of the B550 Taichi
1. Supports 3rd Gen / future AM4 AMD Ryzen™ Processors   |   2. Dual Channel DDR4 Memory Technology
3. 24Pin ATX Hi-Density Connector   |   4. XXL Aluminium Alloy Heatsink   |   5. 8+8Pin 12V Hi-Density Power Connector
6. Premium 60A Power Choke / 16 Power Phase Design / Digi Power with 50A Dr.MOS
7. Hyper M.2 Sockets, PCIe Gen4x4, 1x Ultra M.2, PCIe Gen3 x4 & SATA3
8. 3x PCIe Steel Slots, 3 PCIe 4.0/3.0x16, 2 PCIe 3.0 x1
9. Premium Audio / Realtek ALC 1220 Codec / Nahimic Audio / PCB Shielding Layers
10. Unbeatable Heatsink Armor / Strong Top Cover   |   11. Reset & Power Button
Boosted for Maximum Networking Performance

INTEL 2.5 GB/S LAN   |   WI-FI 6 802.11AX   |   DUAL USB 3.2 GEN2 TYPE A+C   |   FRONT USB-C
ASRock B550 Taichi features an I/O shield and reserves more flexible space, thus fitting chassis perfectly without any issues. Equipped with next generation Intel® Wi-Fi 6 802.11ax adapter. The speed will be working up to 2.4Gbps and it will also natively operate with both 2.4Ghz and 5Ghz simultaneously. Significant improvement in bi-directional MU-MIMO support is another attractive feature as well. Intel® LAN always provides the best throughput performance, lower CPU utilization, enhanced stability and is able to deliver ultimate network experience to users. With a wealth of USB ports on the front and rear, Type-A and Type-C able to deliver up to 10Gbps data transfer rates.
Unbeatable Heatsink Armor and Metal Backplate

DUAL M.2 SOCKETS FOR SSD
A metal backplate armors prevents bending caused by heavy coolers or graphics cards with better airflow. Engineered with an aluminium alloy heatsink top cover which dissipates heat efficiently, underneath its strong cover are Two M.2 Key M sockets for rapid SSDs. Plus, the Hyper M.2 socket supports PCIe Gen4 x4 – while the M.2 socket is ready to run PCIe Gen3 x4 and SATA3 mode.

Reinforced Steel Slot
The strengthened steel slot comes with the next generation PCI Express 4.0 standard. The various benefits include extra anchor points, stronger latch, ensures signal stability, and makes sure heavy graphics cards to be well-installed.
Equipped to Deliver an Extreme Audio Performance
AUDIO THAT MATTERS
Whether you are using headphones, a headset, external or internal speakers, via USB, Wi-Fi, analog output or even HDMI, Nahimic Audio offers you the most engaging listening experience, vibrant and rich with details.
Core Specifications
Edition ┃ B550 Taichi
Form Factor ┃ ATX
CPU Socket ┃ AM4
Chipset ┃ AMD B550
RAM Memory Support
Memory Type ┃ DDR4
Memory Channel ┃ Dual (2)
Memory Type (ECC) ┃Non-ECC
Memory Type (R/U) ┃UDIMM (Unbuffered)
Memory Speed (Mhz):
DDR4 - 2133
DDR4 - 2400
DDR4 - 2667
DDR4 - 2933
DDR4 - 3200
DDR4 - 3200(OC)
DDR4 - 3466(OC)
DDR4 - 3600(OC)
DDR4 - 3733(OC)
DDR4 - 3800(OC)
DDR4 - 3866(OC)
DDR4 - 4000(OC)
DDR4 - 4133(OC)
DDR4 - 4200(OC)
DDR4 - 4266(OC)
DDR4 - 4333(OC)
DDR4 - 4400(OC)
DDR4 - 4466(OC)
DDR4 - 4533(OC)
DDR4 - 4600(OC)
DDR4 - 4666(OC)
DDR4 - 4733(OC)
DDR4 - 4800(OC)
DDR4 - 4866(OC)
DDR4 - 4933(OC)
DDR4 - 5000+(OC)
DDR4 - 5100(OC)
DDR4 - 5200+(OC)
Max. Memory Capacity ┃ 128GB
Audio
Audio ┃ Realtek ALC1220 7.1 HD Audio
Graphics Support
Primary GPU Interface ┃ PCIe 4.0 (x16)
NVIDIA SLI Support ┃ Not Supported
AMD CrossFire Support ┃ 3-Way CrossFire
Integrated Graphics ┃ Requires Processor Graphics or Discrete GPU
On-Board Graphics Connectors:
DisplayPort 1.4
HDMI 2.1
Internal Connectivity
Expansion Slots:
1 x M.2 Key E (Occupied by Wi-Fi Module)
1 x M.2, 22-42/60/80, PCIe Gen4x4/SATA
1 x M.2, 22-42/60/80/110, PCIe Gen3/SATA
2 x PCIe 3.0 x1
3 x PCIe 4.0 x16
SATA Support ┃ SATA3
RAID Support via ┃ SATA
Storage Mode Support:
RAID 0
RAID 1
RAID 10
Internal I/O:
1 x 24-pin (Power)
5 x 4-pin CHA_FAN connector
1 x 4-pin CPU Fan Connector
1 x 4-pin CPU OPT Fan Connector
2 x 8-pin (Power)
2 x Addressable Digital RGB Header
1 x Clear CMOS Button
1 x Dr. Debug with LED
1 x Front Panel Audio Header
1 x Power LED / Speaker Header
8 x SATA III - 6Gb/s
2 x USB 2.0 Header
2 x USB 3.2 Gen1 Header
1 x USB 3.2 Gen2 Type-C Front Panel Header
External Connectivity
Network Interface Type:
802.11ax WiFi LAN
Wired 2.5 Gigabit LAN (10/100/1000/2500)
Network Chip/Modules:
1 x Intel (2.5GbE LAN)
1 x Intel 802.11ax WiFi + BT5 Module
Rear I/O Connectors:
2 x Antenna Ports
1 x Bass Speaker Out
1 x BIOS Flashback Button
1 x Center/Subwoofer Speaker Out
1 x Clear CMOS Button
1 x DisplayPort 1.4
1 x Front Speaker Out
1 x HDMI
1 x Line In
1 x Mic-In
1 x Rear Speaker Out
1 x RJ-45 with LED
1 x S/PDIF-Out (Optical)
2 x USB 2.0
4 x USB 3.2 Gen1 Type-A
1 x USB 3.2 Gen2 Type-A
1 x USB 3.2 Gen2 Type-C
Additional Specifications
Water Cooled ┃ No
Cooling ┃ Passive Heatsinks
QPI Speed ┃ N/A
Board Dimensions ┃ 305 x 244 mm