ASUS STRIX SOAR Internal 7.1 channels PCI-E Sound Card
7.1 PCIe gaming sound card with an audiophile-grade DAC and 116dB SNR
Features
| | |
| --- | --- |
| Brand | Asus |
| Model Number | STRIX SOAR |
ASUS STRIX SOAR Internal 7.1 channels PCI-E Sound Card

Unleash your gaming instincts
Taken from the ancient Roman and Greek word for owl, Strix means the keenest hearing and sharpest eyesight. Strix means feeling your environment so that you detect and react to the slightest movement. Strix means survival on the very edge of instinct. Strix is in your blood, as it is in ours.

SHARPEN YOUR HEARING - TAKE CONTROL
Strix Soar is a gaming sound card built with high-performance components to satisfy gamers who demand pure, full-sounding audio. Strix Soar features rich, immersive, and clear sound with an incredible 116dB signal-to-noise ratio (SNR), and a 600ohm headphone amplifier for deep, tight bass. The simple yet powerful Sonic Studio sound utility provides complete sound card control and allows easy in-game audio adjustments.
Hyper Grounding Technology
Noise-blocking multi-layer PCB developed with decades of ASUS professional layout expertise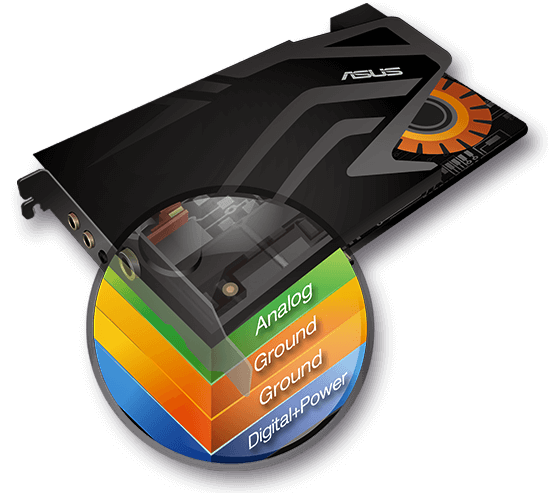 TOTAL AUDIO CONTROL
Strix Soar features the latest Sonic Studio software suite for full control over every sound technology, from equalization (EQ) to 7.1-speaker level-balancing. Sonic Studio has a single navigation page that puts everything in front of you, with an intuitive point-and-click interface that allows you to pre-set audio profiles to suit different audio requirements.

116dB signal-to-noise ratio (SNR) clarity
High-fidelity grade ESS SABRE9006A DAC delivers unrivalled, jitter-free sound and an exceptional 116dB signal-to-noise ratio (SNR) for 32 times greater clarity than average onboard audio.

Sound detail boost with 600ohm integrated headphone amplifier
The powerful TI-TPA6120 headphone amp lets you experience the full potential of your gaming headset. A 600ohm headphone amplifier provides enhanced bass and clear, detailed sound.

Lighting effects
Express your gaming style with Strix Soar. Its owl-eye design even lights up in the dark.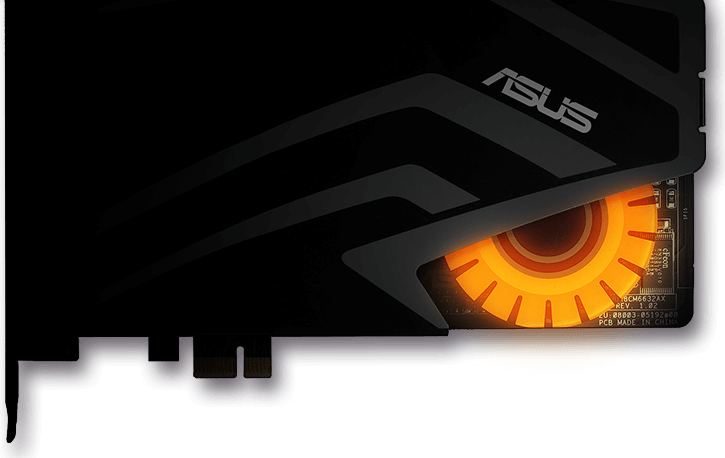 ASUS STRIX SOAR Features

Sonic Studio utility: Take full control over loads of sound technologies via an intuitive, one-page interface
Sonic Radar Pro: Lets you pinpoint the exact location of in-game sounds and enhances critical audio details like enemy footsteps for an aural advantage
600ohm headphone amplifier: For enhanced bass and clear, detailed sound
116dB signal-to-noise ratio (SNR) and audiophile-grade DAC: Enjoy high-fidelity, immersive sound