MINIMALIST LOOK, MAXIMUM IMPACT
Elevate your setup with stunning White ASUS ROG components. Unleash power, style,

and a gaming experience like never before. Upgrade now and stand out in the gaming world.

Why Buy?

The ROG Moonlight White series boasts a sleek, minimalist design, offering an array of devices.

Elevate your setup with Moonlight White editions of the ROG Falchion Ace keyboard, Keris Wireless AimPoint mouse, Strix Go Core headset, and Cetra True Wireless headphones.





Scroll Down To Learn More
Why Buy From AWD-IT?

Exceptional quality is guaranteed with ASUS, a brand renowned for innovation and top-notch performance.

Plus, our team of experts is ready to guide and support you in making the right choice for your ASUS gear.

We offer competitive pricing because we believe in delivering value without compromise, and our fast shipping ensures you receive your ASUS gear promptly at your doorstep.
Asus ROG Strix GO Core Moonlight White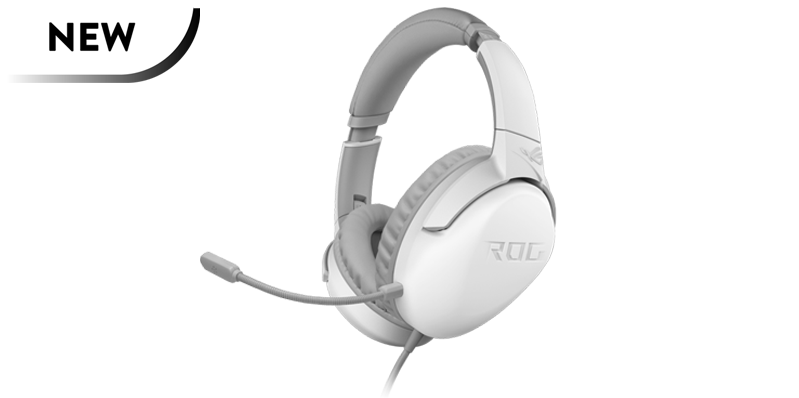 Exclusive airtight chambers and 40 mm ASUS Essence drivers deliver incredibly rich, pure sound with optimized deep bass for an immersive audio experience

Lightweight build, at only 252g ,and foldable design for unbeatable comfort, especially for long gaming sessions and on-the-go enjoyment

Certified by Discord and TeamSpeak, the optimized microphone delivers clear communication
Experience the future of gaming with the ROG Strix Go Core Moonlight White headset. It offers immersive gaming audio and comfort, compatible with various platforms including PC, Mac, mobile phones, PlayStation® 5, Xbox® Series X and S, and Nintendo Switch™.

Make a bold statement in the gaming world with Moonlight White ASUS ROG components. Minimalist Look. Maximum Impact.

TB)
Asus ROG Delta Wired PC/Console Gaming Headset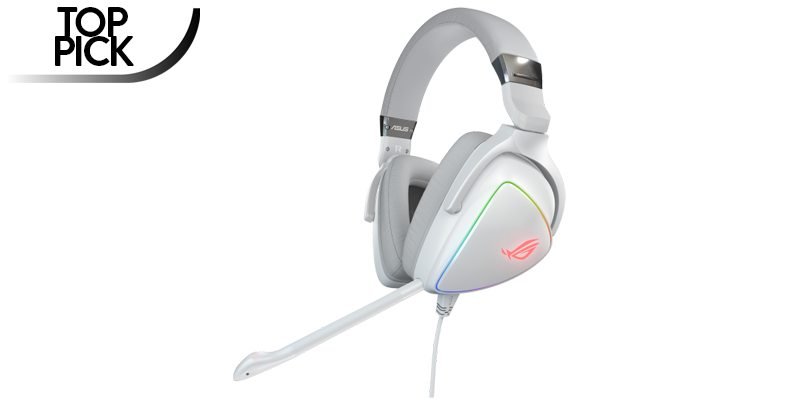 Industry-leading hi-res ESS quad-DAC for impeccably detailed and true-to-life

Audio

USB-C connector for true multiplatform support, including PCs, Mac, mobile phones and PS4

Customisable, multi-color circular RGB lighting lets you shine in style

Exclusive ASUS Essence drivers, airtight chamber and audio signal diversion technology for immersive audio experiences
Upgraded comfort with ergonomic D-shape and ROG Hybrid ear cushions
ROG Delta White Edition is the world's first gaming headset with the industry-leading, hi-fi-grade ESS 9218 quad DAC, which delivers impeccably clear and detailed sound to give serious gamers the edge they need to win.
ROG Delta White Edition features a USB-C connector and comes with a USB-C to USB 2.0 adapter to let you game on your PC, console and mobile device without changing headset.
Asus ROG Falchion Ace White 65% Wired Gaming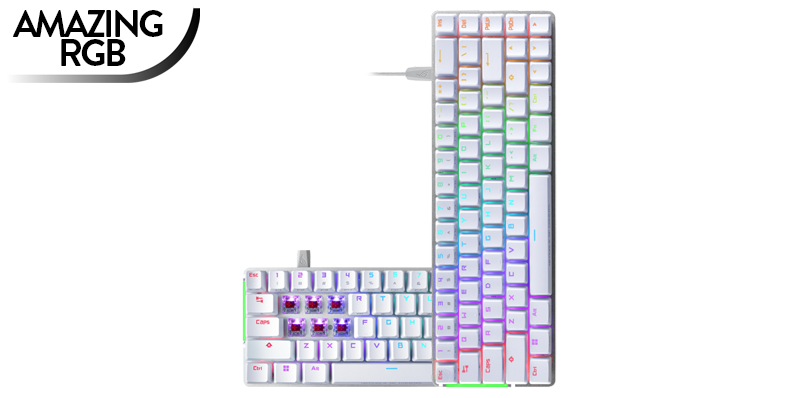 ROG NX mechanical switches: Lubricated stem and housing for smoother clicks and to eliminate bouncing noise respectively, fast actuation and ROG-tuned force curves for great, consistent keystrokes

Better typing experience: Specially designed ROG switch stabilizer to ensure smooth keystrokes and stability for longer keys, plus ROG PBT doubleshot keycaps and built-in sound-dampening foam for improved acoustics
Introducing the ROG Falchion Ace White: a 65% compact gaming keyboard featuring pre-lubed ROG NX mechanical switches with ROG switch stabilizers, PBT doubleshot keycaps, sound-dampening foam, an interactive touch panel, dual Type-C ports, three keyboard tilt angles, and a protective cover case to keep this amazing keyboard looking brand new.
Asus ROG Strix Scope TKL NX Red Keyboard - Moonlight White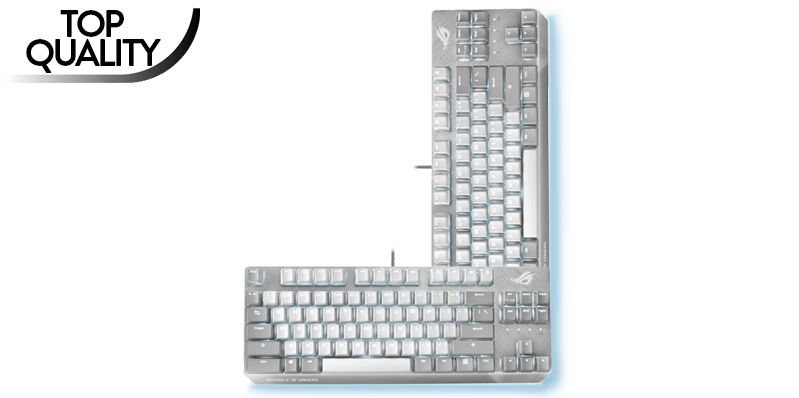 Created for FPS Gamers: the tenkeyless form factor provides more room to move the mouse, while the enlarged L-Ctrl key minimizes inadvertent pressing of other keys

Portability: The compact keyboard fits easily into backpacks while the detachable cable prevents scuff marks or scratches

Quick-Toggle Switch: Instantly shift between function and media key inputs

Stealth key: Tap to hide all apps and mute audio for instant privacy; tap again to play on
Introducing the ROG Strix Scope NX TKL Moonlight White: a wired mechanical RGB gaming keyboard designed for FPS gamers. It features ROG NX switches, a durable aluminum frame, and customizable Aura Sync lighting to elevate your gaming experience.

Take a look at this must have keyboard today!
Asus ROG Keris Wireless Aimpoint White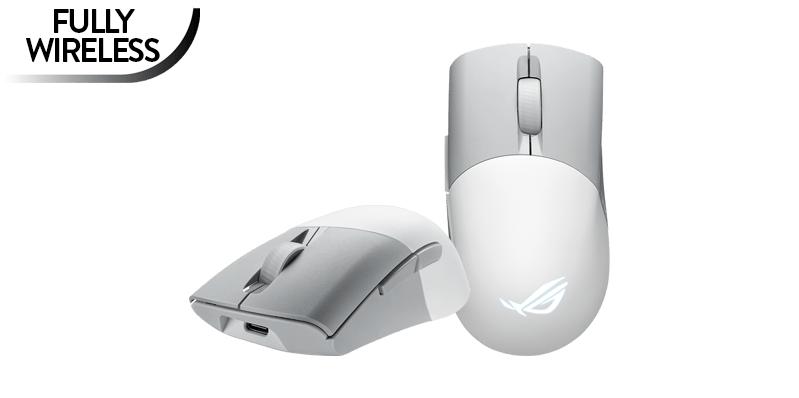 Lightweight structure: Updated design with durable inner structure keeps mouse weight down to just 75 grams

Push-Fit Switch Socket II: Swappable switch design for easy customization

Keris AimPoint includes ROG Micro Switches and is compatible with other 3-pin mechanical and 5-pin optical micro switches

Anti-slip ROG patterned mouse grip tape: Provides users with a more secure grip and an added bit of flair

Meet the ROG Keris Wireless AimPoint, a lightweight 75-gram wireless RGB gaming mouse. It's equipped with a powerful 36,000 dpi ROG AimPoint optical sensor, tri-mode connectivity, ROG SpeedNova wireless tech, swappable mouse switches.

With a 36,000 dpi ROG AimPoint optical sensor, offering 650 ips, a 50 g acceleration rate, and a 1000 Hz polling rate this mouse is perfect for any gamer.
Asus ROG Gladius II Wireless Aimpoint Moonlight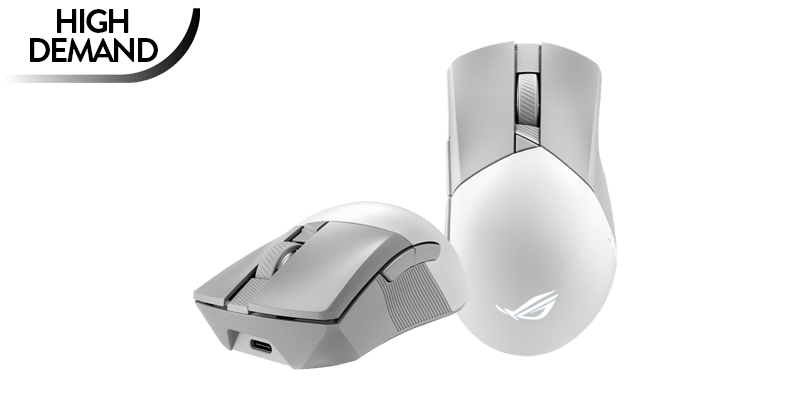 Perfect precision: 36,000‑dpi ROG AimPoint optical sensor with 650 ips and 50 g acceleration rate, plus 1000 Hz polling rate

Classic look, with added lightness: Renowned asymmetrical aesthetic of the Gladius series, pared down to

just 79 grams Tri-mode connectivity: Game on for up to 119 hours with low-latency 2.4 GHz RF, pair up to three devices via Bluetooth® mode, or charge and play with wire



Introducing the ROG Gladius III Wireless AimPoint: an agile and lightweight 79-gram wireless RGB gaming mouse.

It boasts a high-performance 36,000-dpi ROG AimPoint optical sensor, tri-mode connectivity, ROG SpeedNova wireless technology, swappable mouse switches, six programmable buttons, and precision-enhancing mouse grip tape.