Lian Li O11 Vision E-ATX Tempered Glass Mid Tower Case - White
Introducing the stunning Lian Li O11 Vision in a sleek white finish. This premium computer case combines bold design with exceptional functionality. It features a spacious interior to accommodate high-end gaming components. The tempered glass panels offer a clear view of the impressive system build inside. With its optimized airflow and support for water cooling, this case is a dream for PC enthusiasts. Elevate your gaming experience with the Lian Li O11 Vision - White.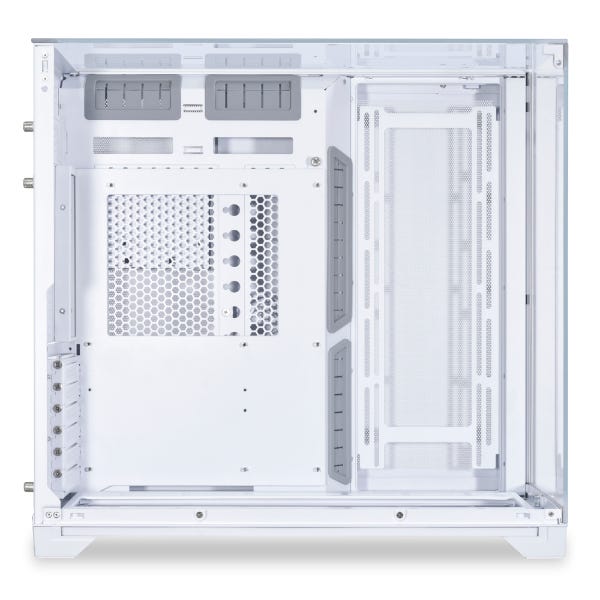 Features
| | |
| --- | --- |
| Brand | Lian Li |
| Model Number | O11VW |
| Warranty Support | 1 Year |
| Colour | White |
Lian Li O11 Vision - White
The Lian Li O11 Vision is a stunning and high-quality PC case that has been designed with elegance and functionality in mind. This case is perfect for gamers, professionals, and anyone who wants a sleek and reliable housing for their computer hardware. With its unique and eye-catching design, the Lian Li O11 Vision is sure to stand out and impress anyone who sees it.
Featuring a pristine white color, this PC case has a modern and minimalist aesthetic that will complement any environment. The sleek tempered glass panels on the front and side give the case a premium look and feel, while also allowing for easy viewing of the components inside. The Lian Li O11 Vision is the perfect showcase for your high-end hardware.
Not only does the Lian Li O11 Vision - White look great, but it also offers exceptional functionality. The spacious interior of the case provides ample room for E-ATX, ATX, microATX, and mini-ITX motherboards, as well as plenty of space for multiple GPUs and cooling solutions. With support for up to two 360mm radiators and multiple SSD and HDD mounts, this case has everything you need to create a powerful and efficient build.
Additionally, the Lian Li O11 Vision - White is designed with convenience in mind. The tool-less tempered glass side panels make it easy to access your components and perform maintenance, while the cable management system ensures a clean and clutter-free build.
Whether you're a hardcore gamer, a content creator, or a PC enthusiast, the Lian Li O11 Vision - White is the ideal choice for housing your hardware. Its combination of stunning design, exceptional functionality, and convenient features make it a top-notch option for anyone in need of a high-quality PC case.
Don't settle for a standard, run-of-the-mill case – choose the Lian Li O11 Vision - White and take your build to the next level.
PRODUCT NAME: O11 Vision
CASE TYPE: Tower Chassis
MODEL: O11VW
COLOR: White
DIMENSION: (D) 480mm x ( W ) 304mm x (H) 464.5mm
MATERIAL: Steel 4.0mm Tempered Glass 3.0mm Tempered Glass Aluminum
MOTHERBOARD SUPPORT: E-ATX (Under 280mm)/ATX/Micro-ATX/Mini-ITX
EXPANSION SLOT: 6+1
STORAGE: Behind MB Tray: 3 x 2.5" SSD Hard Drive Cage: 2 X 3.5′′ HDD or 2.5′′ SSD
GPU LENGTH CLEARANCE: 455mm (Max.)
CPU COOLER HEIGHT CLEARANCE: 167mm (Max.)
PSU SUPPORT: ATX (Under 220mm)
FAN SUPPORT: Side: 3 x 120mm / 2 x 140mm Bottom: 3 x 120mm / 3 x 140mm Rear:1 or 2 x 120mm
RADIATOR SUPPORT: Side: 360 / 240 / 280mm Bottom: 360 / 240 / 280mm Rear: 240/ 120mm
I/O PORTS: 1 x Power Button 1 x Reset Button 2 x USB 3.0 1 x USB Type C 1 x Audio
DUST FILTER: Bottom × 1
WARRANTY: 1 year