ROG switches are meticulously designed from the ground up, from actuation force to click ratio, so every keystroke feels unmistakably ROG.
ROG RX Red optical mechanical switches are the first to be developed by ROG. Extensive research, testing and fine-tuning have resulted in switches with a 1.5mm actuation point for lightning-fast inputs. An initial force of 40gf prevents accidental keystrokes, and goes all the way up to 55gf for perfect rebound feedback. ROG RX Red switches provide a smooth and linear feel to give you near instantaneous response the moment you strike the key.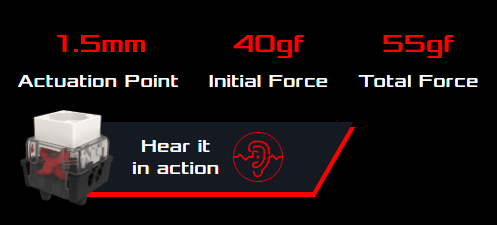 ROG RX Blue optical mechanical switches have a 1.5mm actuation point for lightning-fast input and tactile force of 65gf, which is the level preferred by most gamers. These game-changing switches provide a firm and clicky feel while delivering near-instantaneous responsiveness.
ROG NX Red mechanical switches provide a 1.8mm actuation point for fast input. Initial force of 40gf helps prevent accidental keystrokes, and it extends to 55gf for perfect rebound feedback. As a result, keystrokes are instantaneous and have a smooth and linear feel.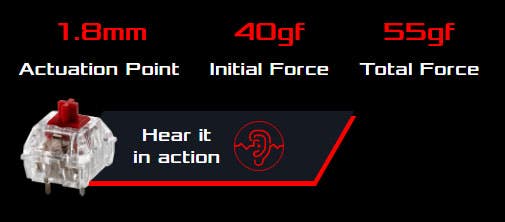 ROG NX Brown mechanical switches have a 2mm actuation point, as preferred by traditional brown switch users. The tactile force of 58gf combined with a click ratio of 33% gives every keystroke an obvious, more pronounced tactile response.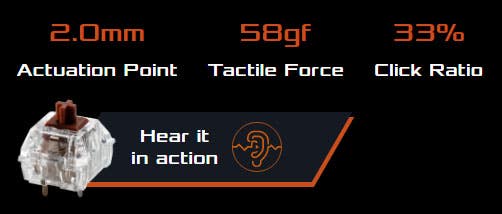 ROG NX Blue mechanical switches feature a 2.3mm actuation point, standard 16% click ratio, and an enthusiast-preferred 65gf tactile force – all to provide firm and superb feedback with each keystroke.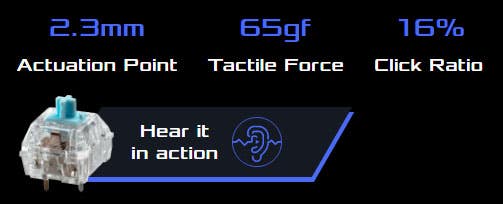 A CLOSER LOOK AT ROG RX OPTICAL MECHANICAL SWITCH

LIGHT-SPEED ACTUATION

Unlike traditional mechanical switches, the ROG RX optical mechanical switches have near-zero debounce delay that allow your triggers to be ahead of your opponents always.
WOBBLE-FREE BALANCED KEYPRESS

The ROG RX optical mechanical switch utilizes a unique hollow square stem, four corner latches and X-stabilizer to eliminate keystroke wobble and ensures consistent keystrokes.
CENTRAL LIGHTING WITH
ALL-ROUND ILLUMINATION

The ROG RX optical mechanical switches feature a central LED,
and each key stem diffuses light to create a stunning in-key lighting effect.
The images used are for illustration purposes only and may vary from the actual products.