---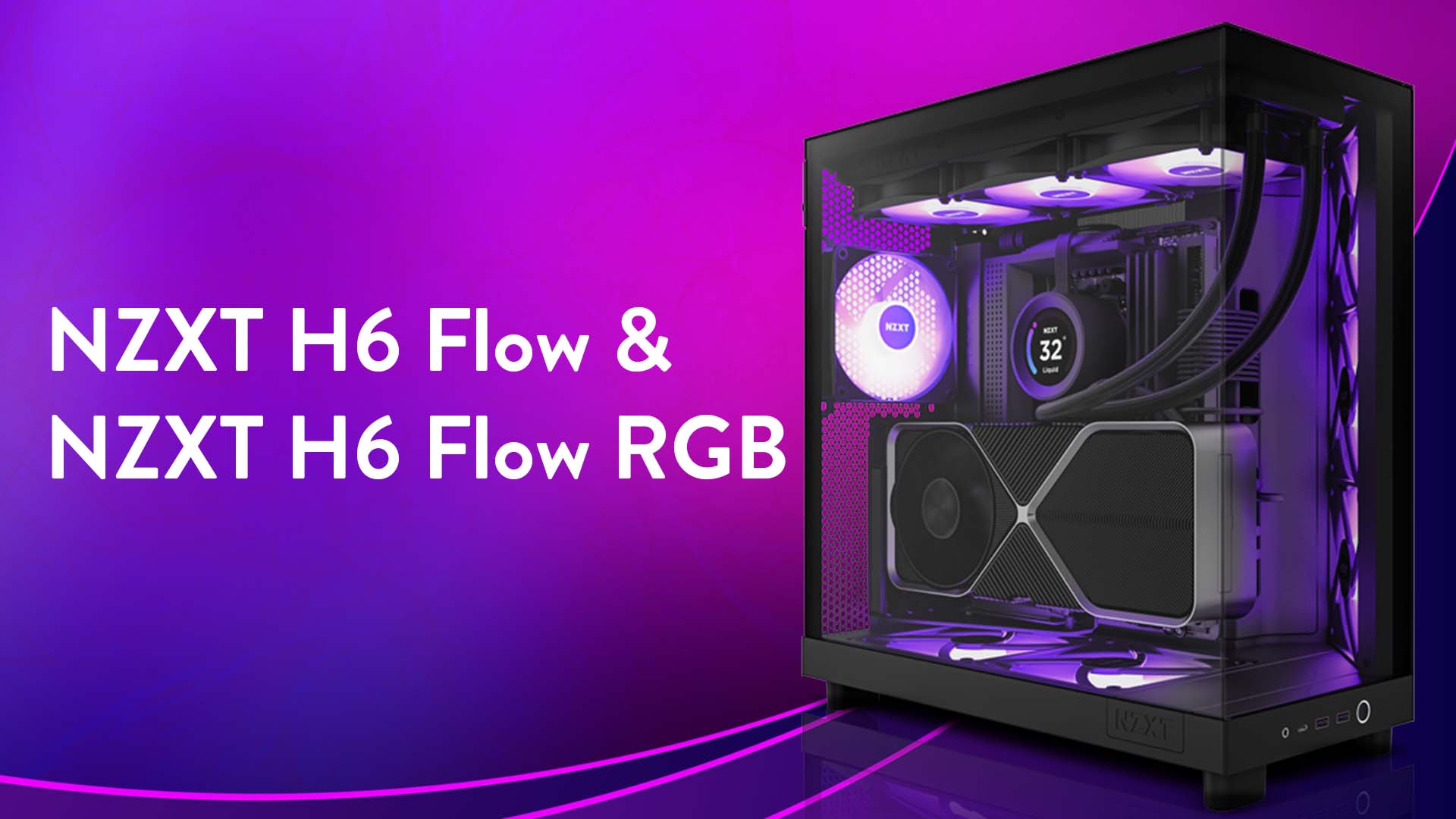 More Posts by AWD-IT
Translucent tempered glass panels on the front and side provide an unobstructed glimpse of your components, offering a seamless visual experience. The dual-chamber layout discreetly conceals the PSU and storage, resulting in an elegant, compact, and distinctive appearance.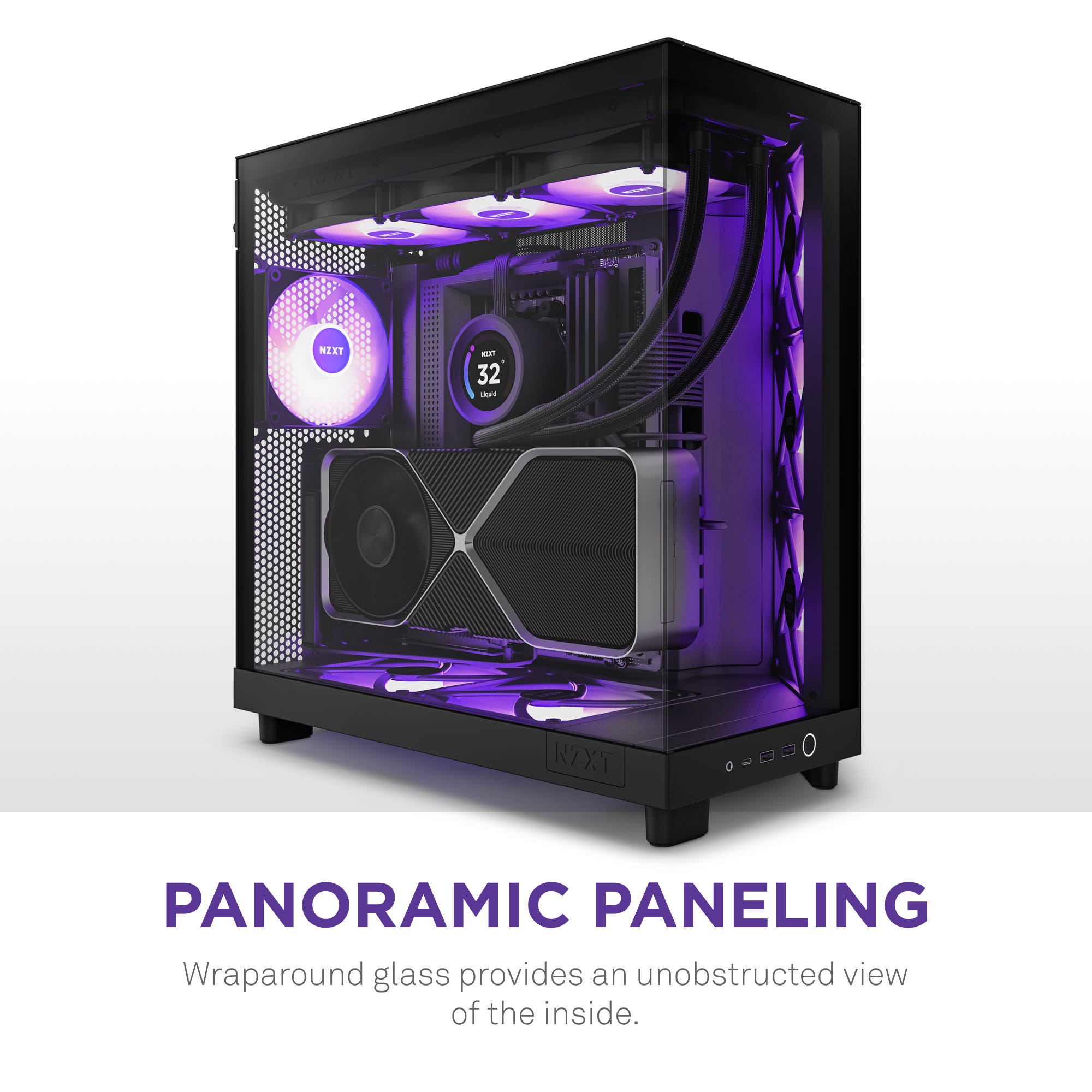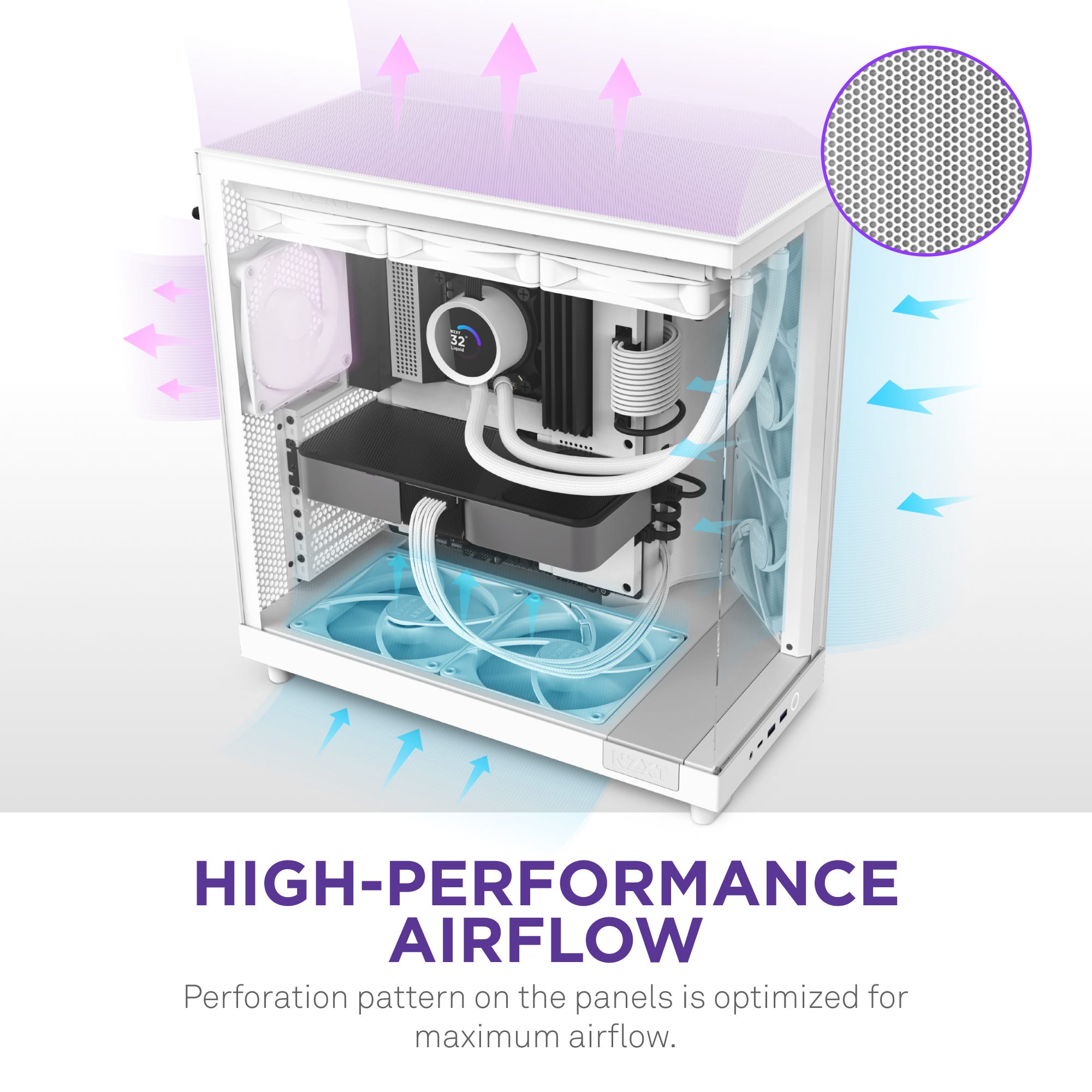 The strategically positioned front-right corner features a trio of 120mm fans, precision-engineered to target components prone to heat buildup. Underneath the GPU, you'll find room for two 140mm fans, ensuring optimal cooling, while perforated panels work in harmony to augment and optimize airflow.
Experience top-tier performance with the H6 Flow. It supports a 360mm radiator up top and houses a 365mm GPU, delivering exceptional power and cooling while maintaining an elegant, modern design. Whether you're a gamer or a professional, it's ready to meet your demands.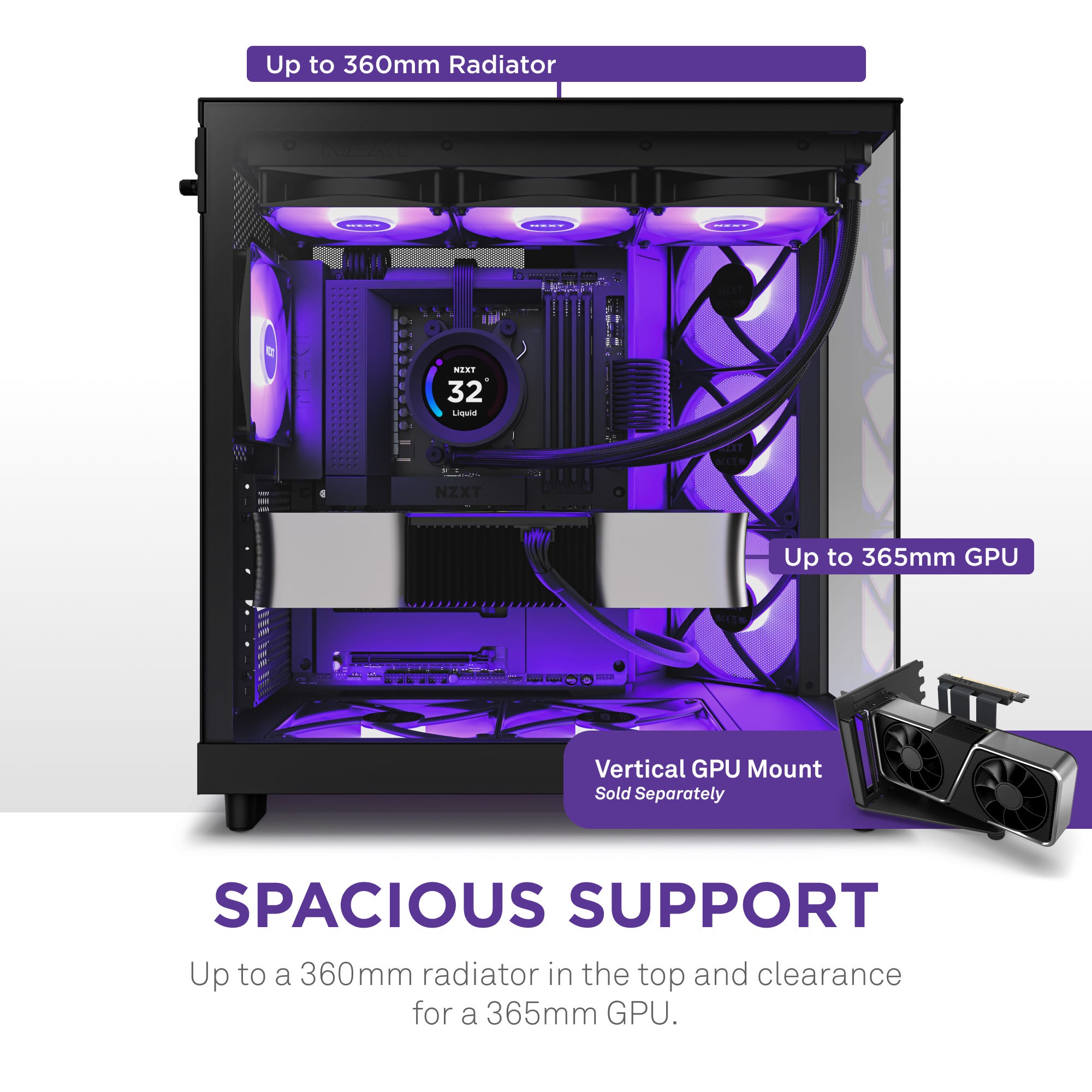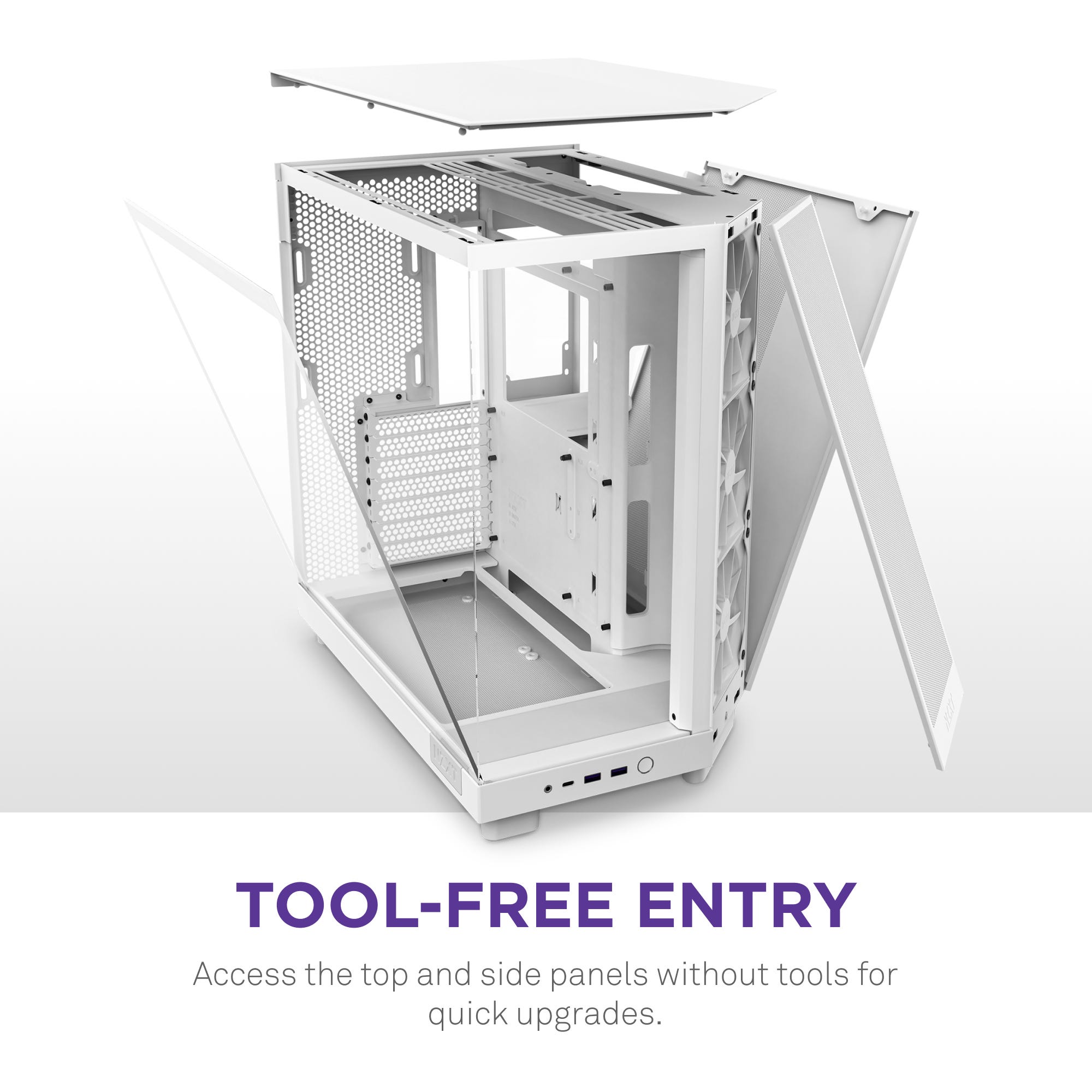 The user-friendly layout of H6 Flow streamlines construction effortlessly, featuring spacious channels and bundled straps for efficient cable organization. Convenient, tool-free access to both the top and side panels simplifies adjustments and enhancements.
---
---
Motherboard Support: ATX, Micro-ATX, Mini-ITX
Enclosure Type: Mid-Tower

Case Material: SGCC Steel, Ultra-Clear Tempered Glass,
Dark Tinted Tempered Glass (Black SKU only)
---
---
Height (with feet): 435 mm / 17.13 in

Width: 287 mm / 11.3 in

Depth: 415 mm / 16.34 in

Weight: 9.4 kg
---
COMPATIBILITY & CLEARANCE

---
CPU Cooler Height: 163 mm / 6.42 in
GPU Length: 365 mm / 14.37 in
PSU Length: 200 mm / 7.87 in
Cable Management: 91 mm / 3.58 in
Top Radiator: 30 mm / 1.18 in
---
---
USB 3.2 Gen 1 Type-A: 2
USB 3.2 Gen 2 Type-C: 1

Headset Audio Jack: 1
---
---
---
---
---
---
Front-Right: 3 x 120 mm (3 x F120 RGB Core Fan Case Version)
Top: 3 x 120 mm / 2 x 140 mm
Bottom: 2 x 140 mm
Rear: 1 x 120 mm
Filters: High-Performance Mesh

---
---
Top: Up to 360 mm
Rear: Up to 120 mm
---
---
Model: F120 RGB Core Fan (Case Version)

Speed: 1300 ± 130 RPM

Airflow: 55.17 CFM
Static Pressure: 1.27 mm-H2O
Noise: 26.1 dBA
Fan Connector: 3-Pin

---
---
Warranty: 2 Years

Model Number: CC-H61FW-R1 (White) / CC-H61FB-R1 (Black)

UPC: 810074844154 (White) / 810074844161 (Black)

EAN: 5056547204062 (White) / 5056547204079 (Black)
---
---
H6 Flow: 1

F120 RGB Core Fan (Case Version): 3

Installation Accessories: 1
User Guide: 1
---
---
Motherboard Support: ATX, Micro-ATX, Mini-ITX
Enclosure Type: Mid-Tower

Case Material: SGCC Steel, Ultra-Clear Tempered Glass,
Dark Tinted Tempered Glass (Black SKU only)
---
---
Height (with feet): 435 mm / 17.13 in

Width: 287 mm / 11.3 in

Depth: 415 mm / 16.34 in

Weight: 9.4 kg
---
COMPATIBILITY & CLEARANCE

---
CPU Cooler Height: 163 mm / 6.42 in
GPU Length: 365 mm / 14.37 in
PSU Length: 200 mm / 7.87 in
Cable Management: 91 mm / 3.58 in
Top Radiator: 30 mm / 1.18 in
---
---
USB 3.2 Gen 1 Type-A: 2
USB 3.2 Gen 2 Type-C: 1

Headset Audio Jack: 1
---
---
---
---
---
---
Front-Right: 3 x 120 mm (3 x F120Q Included)
Top: 3 x 120 mm / 2 x 140 mm
Bottom: 2 x 140 mm
Rear: 1 x 120 mm
Filters: High-Performance Mesh

---
---
Top: Up to 360 mm
Rear: Up to 120 mm
---
---
Model: F120Q Airflow Fan (Case Version)
Speed: 1200 ± 120 RPM

Airflow: 62.18 CFM
Static Pressure: 1.05 mm-H2O
Noise: 25.1 dBA
Fan Connector: 3-Pin

---
---
Warranty: 2 Years

Model Number: CC-H61FW-01 (White) / CC-H61FB-01 (Black)
UPC: 810074844130 (White) / 810074844147 (Black)
EAN: 5056547204048 (White) / 5056547204055 (Black)
---
---
H6 Flow: 1

F120Q Airflow (Case Version): 3

Installation Accessories: 1
User Guide: 1